Thinking of hitching up a trailer to your Subaru Forester but unsure how much weight is allowed? Maybe you're wondering whether your rig is safe and up to standard.
Towing on any vehicle can be confusing, even for well-seasoned drivers. With so many factors in play, getting it wrong can cause serious consequences on the road and jeopardise your and others' safety.
In this blog, we take a look at Subaru Forester towing capacity, and give away a few tips on how to tow trailers, campers, or boats, ensuring safety compliance with your vehicle's capabilities.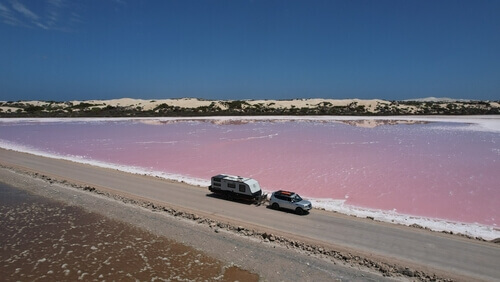 Subaru Forester Towing Capacity
When updating the Forester, Subaru has maintained the Forester's GVM (maximum weight of the vehicle) at 2223kg while also allowing for the maximum braked towing capacity to be added on top, resulting in a GCM (Gross Combined Mass) of 4023kg. This means that the vehicle can tow up to 1800kg (Braked capacity) in addition to its own weight without exceeding its maximum weight limit.
Forester's Braked vs Unbraked Towing Capacity
Let's distinguish between braked and unbraked towing capacity. Braked capacity means you've got braking on both wheels on at least one axle of the towed load. This makes your entire setup safer and more controllable. Braked towing capacity is therefore much higher than unbraked.
Here are the figures for Subaru Forester towing capacity in Kg :
Braked maximum towing capacity: 1800kg
Braked maximum towing capacity (Hybrid): 1200kg
Un-braked towing capacity: 750kg
Preparing your Forester for towing
Ensuring your weights are within the limits is a good start. But preparing your vehicle for towing requires a few more checks before you can be sure everything's good to go.
Make sure to:
Inspect your wheel bearings and brakes
Ensure that the wheel nuts are tightened
Verify that your tyre pressure is up to the recommended standards
Test your taillights
Shut all windows in the caravan
Tow bar installation for Subaru Forester
Installing a tow bar can be a challenging process if you haven't altered a vehicle before. The process generally involves the following steps:
Remove tail-light covers and tail-lights.
Remove the rivets and bumper, then loosen the impact beam.
Remove the exhaust and heat shield.
Insert shim plates into the chassis rail.
Insert the side arm into the chassis rail and secure it with bolts.
Lift welded centre sections over the side arm and onto studs, then secure with bolts.
Cut a rectangle on the bumper and heat shield, then drill holes for the plug bracket.
Re-install everything.
Feel free to contact our team at City Subaru for more advice on how to complete the process safely, or let our specialists take care of the job for you.
Common mistakes to avoid while towing
Towing your favorite toys or caravan can be an exhilarating experience, but it certainly comes with challenges too. Knowing what to avoid can make the experience much smoother. Here are some common mistakes to avoid when towing with your Subaru Forester:
Overworking your engine is a common mistake when towing heavy loads. Make sure to give your engine regular breaks to avoid overheating.
Uneven weight distribution can be highly dangerous. Make sure your weight in your tow load and your car is evenly spread, and keep the bulk of the weight as close to the vehicle as possible to avoid swaying.
Avoid unnecessary reversing and reverse parking – this can prove difficult, especially if you're in a confined space like a campsite or the city.
Avoid driving in tight spaces and inner-city roads – this is a no-brainer, but keep clear of tight inner-city streets and narrow suburban lanes.
Maintenance tips for your Forester and trailer after towing
Maintaining your Subaru Forester after towing is key to ensuring your safety both on and off the road. Towing puts extra stress on your vehicle, so ensuring that your vehicle's health is up to standard is essential. Here are some basic tips to ensure your Forester is well-maintained after towing:
Always check tyre pressure after towing a heavy load. This includes your trailer wheels.
Be mindful of your oil and coolant levels. Engine overheating can be a common problem when towing, so always check your car has sufficient fluid levels before and after towing.
Take note of any wear and tear on your trailer, towbar and rear of the vehicle.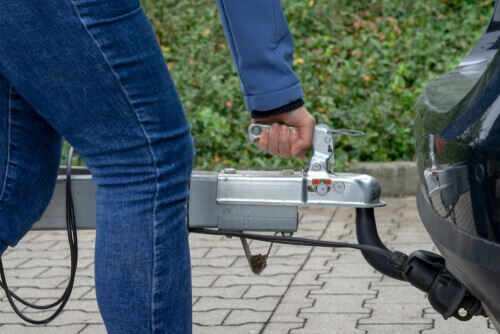 Tips for safe towing with your Forester
Here are some tips on how to drive safely while towing:
Keep a safe distance
Unless overtaking, vehicles towing a trailer or caravan must maintain a distance of at least 60 metres behind heavy vehicles or other towing vehicles.
Observe speed limits and keep left
Observing speed limits is a no-brainer, but extra caution should be taken when towing a load. All Subaru vehicles are restricted to 80km/h when towing, or the local speed limit – whichever is lower.
Always check tyres and brakes before driving
Always do a test run before setting off on a long drive. Check that your brakes are synchronised and that all tail lights and indicators are in working order.
Use genuine Subaru parts and accessories for towing
Genuine Subaru Parts are key to ensuring the integrity of your vehicle – whether you're towing or not. When you replace, update or adjust your vehicle, you can also maintain your manufacturer warranty when you use genuine Subaru parts for your Forester.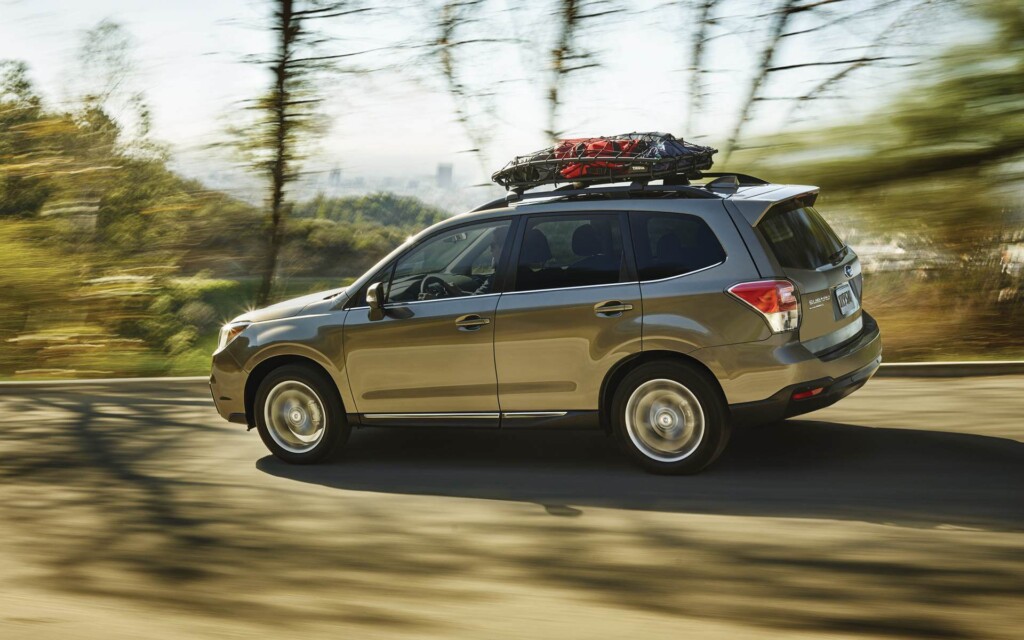 Test drive the new Subaru Forester at City Subaru
Get a feel for the latest Subaru Forester range and its towing capacity by dropping into City Subaru for a test drive. Our friendly team can also help with any questions you may have about towing best practices and ensure your next trip is safe and hassle-free. Contact our team today at 08 9468 8491.
For advice and information on how to tow a caravan, visit our blog here.
FAQ
What can I actually tow on my Subaru Forester?
The Subaru Forester is classified as a light SUV, making it capable of towing many different lightweight caravans, boats, jet skis, trailers and more. Make sure your towing rig is secure, and that your towing capacity does not exceed the limit.
Is my Hybrid Subaru Forester's towing capacity different?
Yes, hybrid models of the Subaru Forester have different maximum towing capacities compared to their petrol-powered cousins. While your traditional Subaru Forester has up to 1800kg braked towing capacity, hybrid models can only tow up to 1200kg.
Are there speed limits for towing vehicles?
Yes, there are. In Western Australia, vehicles towing trailers or caravans may only drive up to 100km/hr. However, Subaru sets its recommended speed limit at 80km/hr.
How reliable is the Subaru Forester for towing?
The Subaru is a highly reliable SUV with class-leading towing capacity. The vehicle is fit for light-duty towing and can be used in more difficult road conditions
Does X-Mode help with towing?
Enhanced X-Mode is an available feature in the Subaru Forester that enhances the SUV's performance while towing loads in challenging driving conditions This advanced system, along with standard symmetrical all-wheel drive optimises the Forester's traction and stability in soft dirt and mud by adjusting the throttle response, shifting patterns, and torque distribution to the wheels with the most grip.