There's nothing like being on the open road with everything you could possibly want on your holiday in tow. Caravanning might be exciting, but it can also be risky if you're not dead certain about how to tow one. With an extra tonne (or two) and double the length added to your vehicle's behind, you're far more vulnerable to accidents than if you were simply driving normally.
This blog is for you Subaru adventurers out there looking to step up your caravanning game and explore some of Australia's most stunning and isolated locations with confidence.
Get (very) familiar with your vehicle
Caravanning is an absolute must-do, especially if you're a fan of road trips and exploring Australia's wilderness. But as with any driving, it's good to know the ins and outs of your vehicle. Even different Subaru models will have different weight limitations, and the way you drive might be slightly different depending on your rig, its braking systems, and the kind of cargo you've got in tow.
It's a good idea to know everything there is to know about your weight limitations, like understanding what your vehicle's braked capacity vs unbraked weight capacity is, its kerb weight and learning about what precautions you may need to consider if your weight is close to the limit. Let's take a closer look at what these terms actually mean.
Understand your towing weights
Whether you're driving a Subaru Forester, Subaru Outback, or Crosstrek, it's good to know how many kgs your towing vehicle is capable of pulling. Even within your vehicle model, numbers may vary, so consulting your vehicle's manual is essential.
As a rule, however, your vehicle's braked towing capacity is the weight your vehicle can pull if the caravan has brakes linked up to your car – so when you brake – the brakes on both your vehicle and the caravan work in unison to bring your whole vehicle train to a safe stop.
Braked towing capacity is the aggregate trailer mass or ATM (the tare weight of your brake-equipped trailer plus its maximum payload when uncoupled from your car). Braked towing capacity is the key figure you'll want to know when searching for a suitable camper or the right tow vehicle.
Unbraked towing capacity refers to the weight your vehicle is capable of towing if the trailer is not equipped with brakes. This figure is predictably quite lower (usually around 750kg for most Subaru vehicles).
Understand Gross combination mass and towing capacity
Before you hook up your caravan and set off, it's important that you consider the interplay between your gross combination mass (your combined weight or GCM) and your Subaru's towing capacity. Your vehicle's GCM is the key figure to watch out for when combining both your vehicle and your caravan. You want to stay within your allowed GCM – within 20% of the maximum is ideal.
Let's say that your GCM limit is 4000kg, your vehicle's braked towing capacity is 2500kg, and your car's Gross Vehicle Mass (GVM) is 1300kg. With those figures, you'd be sitting safely with a GCM of 3800kg. That'd be fine – if your car was brand new without any added weight of a tow ball (50kg), gas bottles (85kg), roof racks (45kg), and all that extra sporting gear plus your mate's tent (360kg). With this example, you'd reach a GVM of 1840kg, and a GCM of 4340kg – well over your 4000kg limit.
It's important that you stay within your GCM limit, and make sure that both vehicle and trailer are within their recommended maximum weight.
Draw up a pre-departure checklist
Before you hit the open road or start the car up for that matter, it's important you cover all your bases. Driving even short distances without the right setup can be dangerous, and even cause serious damage to your vehicle. Make sure you hit all the critical pre-departure points chores like:
Check your wheel bearings and brakes
Tighten wheel nuts
Check your tyre pressure is up to standard
Test your taillights
Close all caravan windows
Check annex poles and ropes
Stow away loose items
It's a good habit to stow away loose and heavier items before you head off, and it's good practice to do so once you park your caravan for extended periods of time. Leaving loose items lying around can put them at risk of falling and breaking while on the road, and can even cause damage to your interior – especially if you're planning on driving on bumpy or windy roads.
How to tow a caravan safely
While it's important to prepare for your drive in the right way, when it comes to actually driving around with larger caravans in tow, it's critical that you follow key safety protocols on the road. Here are some tips on how to keep safe:
Stay under the Subaru recommended speed limit of 80km/hr and within the speed limit – whichever is lower.
Stay concentrated 100% of the time, with a caravan in tow, yo
-u need to be extra vigilant.
Check the rearview mirrors regularly.
Stay away from larger vehicles and trucks.
Steer clear of routes with known poor road conditions
Tow with confidence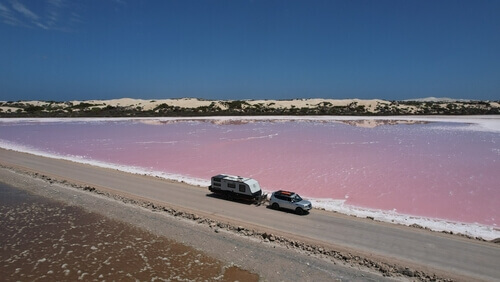 Whether you're starting out on your caravanning journey, or a seasoned expert, it never hurts to have an expert Subaru mechanic check over your vehicle and rig. With an extra four wheels on the road, there are double the risks and double the trouble if anything goes wrong.
Drive with confidence this season and get your Subaru Forester in for a service at City Subaru. Our team looks forward to welcoming you to our Vic Park dealership. Drop by, or book an appointment with our team on 08 9468 8491.