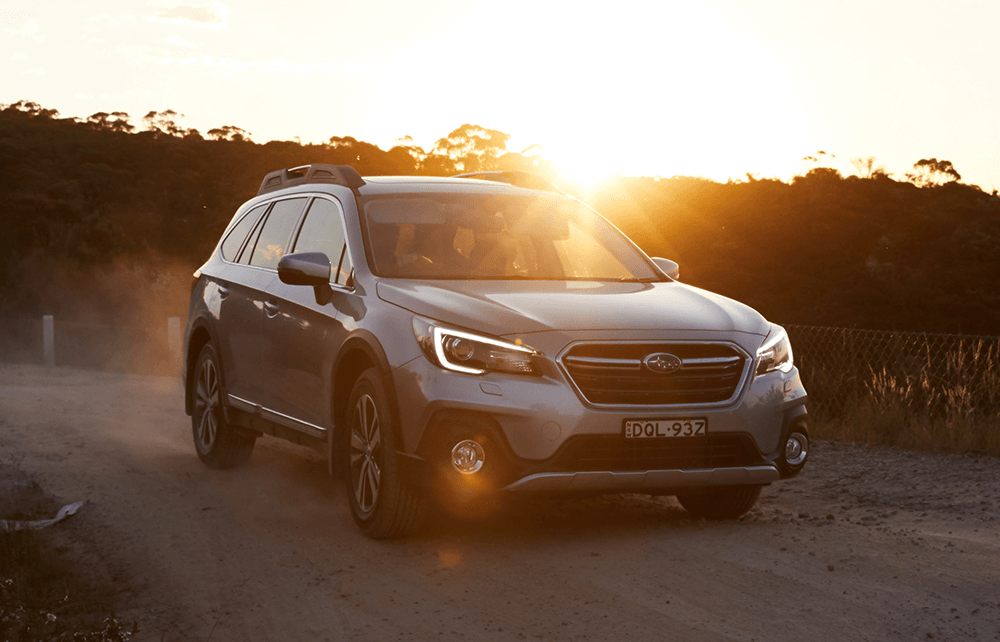 What is X-Mode on Subaru Outback?
A standard on the Subaru Outback, the X-Mode component is a software program to help you get up and down uneven terrain. The X-Mode feature just uses a lower gear ratio to generate an extra power lift at the wheels that can make a grip. X-Mode also deactivates the CVT's (transmission) lock-up clutch so it can direct more power to wheels that may seem to slip in the middle of the uneven terrain.
A Subaru Outback with its X-Mode activated works to recalibrate things like gearing and also engine mapping. This tries to soften the throttle which requires less power to drive on wet and slippery roads. So this means you're less likely to over-rev and keep breaking traction.
As for the transmission, the X-Mode tells the CVT to hold onto 'gears' longer than normal to give you more control over the gearing even at lower speeds.
Subaru's X-Mode allows you to experience world-class all-wheel-drive capabilities! All-wheel-drive is available only on Subaru vehicles. When the X-Mode complements Subaru symmetrical full-time AWD to allow drivers to take the road that's difficult to travel, but then have more daring adventures!
This car's symmetrical all-wheel-drive system is world-renowned for its ability to tackle trails, creep corners and stick the road, but X-Mode ups the ante by using innovative technology to maximize traction in slippery, rough and inclement conditions. The system provides the advanced, all-road capability and rugged performance — and elevates driving confidence, especially on uneven surfaces or challenging inclines.
While X-Mode was previously only available in the Forester, Subaru has expanded its offerings to include X-Mode in the XV and Outback models. The mode excels at steep hills, rough trails as well as ice and snow by sending the needed amount of traction to each individual wheel and optimizing control of brakes, engine and transmission to accommodate whatever conditions you throw at it.
Is the Subaru Outback a 4wd?
The Subaru Outback is typically an all-wheel-drive as all Subaru car models are. You need not be an outdoorsy type to enjoy an Outback. But outdoorsy types will tell you that it helps! All Outbacks are equipped with all-wheel drive, which Subaru says is better than ever at pushing power to each of the car's four wheels when additional traction is needed, whether it be through snow, mud, or over the slippery ground.
Is the 2019 Subaru Outback a good car?
Knowing that the Outback wagon has a long-standing image of being a clever alternative to an SUV. Even the nicely redesigned 2020 model doesn't stray from their previous model design. They've kept what worked in the 2019 model and enhanced other aspects in the 2020 model.
This next-generation Outback adds more comfort and convenience in the car's standard components. The Outback contains a 2.5-litre four-cylinder engine that does the job in delivering the performance you expect from your car. The turbocharged 260-hp, the 2.4-litre engine provides the wagon with effortless acceleration. When your engine is turbocharged, your car ride becomes a very comfortable experience and handling it makes it responsive and secure. All versions get the EyeSight suite of advanced safety and driver-assist systems. The technology even comes equipped with a blind-spot warning and rear cross-traffic warning are optional. Some amazing features include a large infotainment screen, thoughtful details like built-in crossbars and a dual-position cargo cover are nice touches.
What's new in the 2020 Subaru Outback?
So while we've just mentioned the 2019 Subaru Outback, which is something Subaru is proud of, what can we expect in the new 2020 Subaru Outback?
First off, it currently has two engines: a 2.4-litre turbocharged engine with 260 horsepower (194 kilowatts) and 277 pound-feet (376 Newton-meters) of torque, plus a 2.5-litre naturally aspirated four-cylinder with 182 hp (136 kW) and 176 lb-ft (239 Nm) of torque.
Both are paired with a CVT and all-wheel drive.
While most of the 2020 Outback's updates are subtle, all of the good stuff you've experienced in the 2019 Outback is what you can find in the 2020 version! From the engine, transmission, all-wheel-drive system, to the safety technology, plus the X-mode feature, get all Subaru owners and potential car buyers quite excited to try this one out!