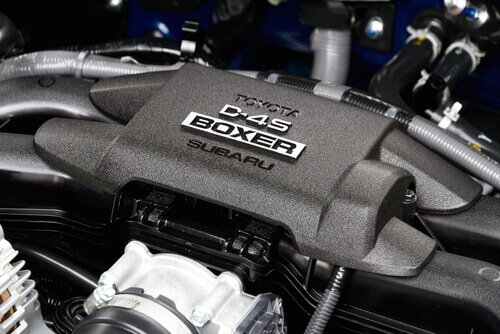 Diving into the riveting realm of automotive technology, we encounter an intriguing term: the Subaru Boxer engine. It's a key player in Subaru vehicles, including iconic Subaru models like the Subaru Legacy and Subaru Impreza. Let's embark on a journey to decipher what a Subaru Boxer engine is and its critical role in sculpting Subaru's identity for over 50 years.
The Basics of the Subaru Boxer Engine
At the very core, a Subaru Boxer engine, sometimes called a flat engine, is an intelligent internal combustion engine design where cylinders lie flat in two opposing banks. Visualise a boxing match where the two contenders throw punches directly at each other, giving birth to the term 'Boxer'. This 180º symmetrical layout equips the engine with a tonne of added benefits.
The Boxer Engine at Work
The Subaru Boxer engine, with its horizontally opposed design, contrasts the more typical vertical or slanted arrangements found in many vehicle engine bays. In this horizontally-opposed engine, pistons move simultaneously towards the centre, mirroring the fists of a boxer, resulting in a self-balancing engine that negates each other's vibrations.
Advantages of the Subaru Boxer Engine
The Subaru Boxer engine's exceptional design doesn't just end in the engine compartment. One key advantage lies in its low centre of gravity, thanks to the horizontal layout of the cylinders. This lower centre placement enhances the entire vehicle's stability and handling, giving Subaru vehicles superior balance and great handling, particularly in unpredictable driving conditions.
The Subaru Boxer engine also boasts an efficient cooling system due to its unique design, bolstering its longevity and fuel economy while also reducing maintenance costs.
Subaru Boxer Engine Models
Subaru serves a variety of Boxer engines tailored to specific Subaru model requirements. From the power-packed WRX STI that utilises a turbocharged Boxer engine, for amplified horsepower and torque, to the Subaru Forester and Outback powered by robust 2.0L and 2.5L four-cylinder engines, promoting fuel efficiency. Every Subaru model showcases the Boxer engine's light engine character and intelligent performance.
Subaru Boxer Engine vs Other Engine Types
The Subaru Boxer engine's unique configuration offers a low centre of gravity and superior balance when pitted against inline and V-type engines. This design ensures great handling and superior stability for Subaru vehicles, while other engine designs often grapple with more vibrations due to a higher centre of gravity.
Though the Subaru Boxer engine might be slightly more complex to manufacture owing to its unique layout, the numerous benefits it provides in terms of performance, efficiency, and durability make it a worthy investment.
Subaru and Boxer: An Unbreakable Bond
Subaru's unwavering commitment to the Boxer engine is evident in every Subaru vehicle that rolls out of the assembly line. This bond has allowed Subaru to hone the Boxer engine technology over the decades, delivering vehicles with top-tier stability, performance, and safety.
The History of the Subaru Boxer Engine
Tracing back to the 1960s, the Subaru Boxer engine was a calculated move by Subaru, part of the Japanese conglomerate Fuji Heavy Industries, to carve out a distinct identity in the global automobile market. Choosing the Boxer engine for its benefits, like smooth operation and lower centre of gravity, perfectly mirrored Subaru's brand ethos – crafting safe, reliable, and enjoyable vehicles.
Subaru Boxer Engine's Role in Future Vehicles
While the automotive landscape is rapidly changing, the principles of the Boxer engine – balance, efficiency, and stability – remain integral to vehicle design. The Subaru Boxer engine, just like Karl Benz's new engine invention in the late 19th century, will continue to be at the forefront of defining driving experience for years to come.
The Heart of the Brand
The Boxer engine sits at the heart of every Subaru, symbolising the brand's dedication to innovation, performance, and driver satisfaction. The Boxer engine is more than just an engine. It's an embodiment of Subaru's philosophy of crafting vehicles that offer an enjoyable drive, reliability, and safety. Its unique design, delivering unparalleled balance and stability, forms an essential part of the brand narrative that sets Subaru apart in the saturated automotive market.
So, What is a Subaru Boxer Engine?
The Subaru Boxer engine is a unique internal combustion engine, showcasing a horizontally opposed design that permits balance, improved handling, and efficient cooling. This innovative design has become synonymous with the Subaru brand, symbolising their commitment to performance, safety, and advanced technology.
Next time you hear the term, you'll know that a Subaru Boxer engine isn't just an ingenious piece of machinery but also a testament to Subaru's innovative spirit and dedication to delivering the best driving experience possible.
If you want to experience the raw power of the boxer engine, you need to get behind a wheel of a Subaru vehicle. At Perth City Subaru, Perth's premier Subaru dealership, you can test drive any of our Subaru vehicles in stock today, with no obligation to buy. Explore our extensive range of Subaru models available, or, contact our friendly team for more information.
Subaru Boxer Engine FAQ's:
What is special about the Subaru Boxer engine?
The Subaru Boxer engine is unique due to its horizontally opposed piston layout, which results in a lower center of gravity compared to traditional engines. This design offers enhanced balance, stability, and less vibration during operation, contributing to Subaru's reputation for smooth rides and durable performance.
What is the benefit of a Boxer engine?
The primary benefit of a boxer engine is its flat configuration, which leads to a more balanced vehicle handling because of the lower center of gravity. It also provides a smoother operation because the opposing pistons cancel out each other's vibrations, leading to increased vehicle stability and a more comfortable driving experience.
Why does Subaru only use Boxer engines?
Subaru commits to boxer engines due to their alignment with the brand's values of safety, reliability, and driver satisfaction. The boxer engine's low profile supports Subaru's safety goals by allowing the engine to slide under the cabin in the event of a collision. Its reliability and unique power delivery align with Subaru's promise of a dependable and enjoyable driving experience.