The exhilarating scent of petrol blended with mud and sand calls out to off-road driving enthusiasts, more so when beach driving is in the mix. The promise of a cool beer at day's end just sweetens the deal. Yet, before diving in, particularly if you're a novice, understanding the terrain is key.
Off-roading varies from easy to challenging, but with our four-wheel drive driving tips, navigating through the rugged or sandy paths is a breeze, ensuring a thrilling yet safe 4WD adventure from start to finish.
1. Plan Your Route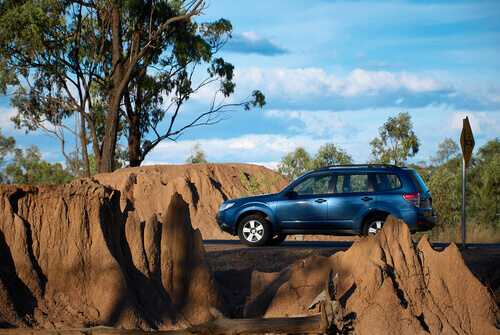 Always plan as much as you can. The Australian bush is full of surprises and you're going to want to be prepared. Ask yourself – are there any river crossings en route? How deep is the sand? Will there be rocky conditions, perhaps some mud plugging?
If you're planning on going for a beach drive, you'll want to consider local tidal movements. Consult a local tidal chart (which can be easily found online) and make sure you've got enough leeway to get back the way you came without being stranded by an incoming high tide.
2. Know Your Vehicle
Knowing your car's strengths and limitations is part of your job as the driver. The truth is, not all cars are made equal—and when it comes to driving off the beaten track, the differences become even more pronounced. Whether you've got a 4WD vehicle with a reliable 4WD mode, all-wheel drive, or a conventional 2WD vehicle, you could be in for vastly different off-roading experiences. It's important to understand what controls to use and when. Here are some of the basics:
Traction Control: is one of your best friends—particularly off-road. Depending on what car you're in, this might be as simple as turning this setting on and off—or you might have a more complex system that can be programmed to suit your drive. Traction control allows your vehicle to distribute torque more effectively to wherever it is needed—making for a grippier, more capable drive.
Low Range vs. High Range: If you require low-end power to keep you moving slowly you should engage 4WD low, and when you need speed and momentum, engage the opposite 4WD high gear.
Locking Differentials: A Lock Diff system ensures your wheels turn in unison—as opposed to when you're driving on-road when the outer wheel is given more leeway as it needs to travel further than the inner wheel. An AWD system will automatically calculate this difference, making for a smooth and effective ride.
3. Know What To Bring
Offroading can be an exciting experience—full of unexpected twists and turns. It's always a good idea to bring the essentials with you—no matter how easy/short you think the trip will be. Some of the biggest offroading fails are those that involve a lack of the right equipment. Trust us, there is nothing worse than getting bailed out by the next car to come your way. With that in mind – here's what you should bring:
Spare tyres –

You're going to want at least one or two just in case.Bumpers/bull bars – To protect your vehicle's body from inevitable scratches and dents.

Winch –

Without a winch, you might be stuck for some time. It's simply not worth heading out without one.
Compact shovel – A shovel can be a lifesaver in deep sand driving—always pack one before heading off-road.
Snorkel – A snorkel can save your car from the worst. Only the smallest amounts of water entering the engine will spell an end to your trip—not to mention your car. It's worth installing a snorkel if you plan to go anywhere near a river or water crossing.
Recovery Tracks – Essential for traversing challenging terrains like sand or mud, these portable devices provide the needed grip to get your vehicle unstuck. They're especially useful for beach driving, ensuring you have a hassle-free off-road experience. Before hitting the trails, toss a pair in your vehicle.
Snatch Straps – A crucial recovery item, snatch straps help free your vehicle from tough spots by providing a stretchy 'snatching' pull. Ideal for off-road or beach-driving adventures, having one onboard ensures you're prepared for unexpected sticky situations.
4. Prepare For Every Scenario
When you're off-road driving, the unpredictable is only more likely. Being prepared for a sticky situation is essential. Here's what to consider:
First Aid Kit – This should already be in your car—just double-check to make sure it's got everything in it.
Glass Breaker/Seatbelt Cutter – You never know when you're going to need to exit your car in emergencies.
Emergency Water Supply & Food – If you're off-roading in the outback or a remote region it's always good to be prepared with the right provisions just in case.
Extra Fuel / Oil / Coolant / Car Fluid – It's almost a no-brainer—but off-roading can drink up much more fuel than you're used to. Ensure you're prepared for the first by packing on extra litres.
5. Know Your Road Tyre Pressures
When you drive normally you don't often think about the condition off the road—let alone what tyre pressure you should be running. These days our car's computer will let you know if there is a tyre pressure issue. But when you go off-road it's the first thing you have to consider. Is it rocky, sandy, or muddy? Different types of environments will warrant different air pressures and different driving styles.
Here's a Breakdown:
Bitumen: 30psi to 38psi
Gravel: 26psi to 32psi
Rocks: Down to 22psi
Mud: 28psi
Soft Sand: Down to 16psi
6. Take It Slow and Use Your Car's Features
It seems obvious, but don't just try and get through by the skin of your teeth. Sure your Subaru Outback has 8.7 inches of ground clearance, but even so, you don't want to risk your and your car's safety. Remember to take it slowly and use your car's controls effectively. For example, your trusty Subaru Outback's symmetrical All-wheel drive and X-Mode assist you with applying the right balance of torque to each wheel to deliver an expert driving experience.
Best Car to Get Started With 4WDing? Try the Subaru Outback
If you're starting with off-roading and want to ease into the sport—investing in a Subaru Outback is an excellent way of learning all the techniques without having to worry about the more complex gearing—all you need to do is hold the steering wheel.
Why not try your hand at the wheel? Get in touch with our team here at Perth City Subaru and test drive the new Subaru Outback today!