Genuine parts are essential to any vehicle, and your Subaru is no different.
Genuine Subaru parts are made to the same exacting standards as our vehicles and are backed up by Subaru's comprehensive parts warranty. So not only do they perform much better and last longer than the inferior aftermarket or non-genuine parts, but Subaru OEM parts also come with greater peace of mind. In this blog, we'll touch on some of the reasons why sticking genuine Subaru parts is a good idea, and also while it'll save you more money in the long term – and perhaps even make your drive safer.
Designed specifically for your make and model
Any genuine part – no matter whether that's for your Subaru Outback or your shiny old classic car, is designed specifically to meet the standards and specifications of the given make and model. But why does that matter?
Genuine Subaru parts are designed and made using the materials and processes that produce the same parts that the original vehicle was made from. Basically, by replacing broken or missing original parts with genuine parts you're rebuilding your car the way it was intended.
Tested and proven
Genuine parts designed specifically for your car's make or model aren't just stamped with the Subaru logo and marketed as superior. Genuine Subaru parts undergo a series of tests to ensure their quality meets the highest standards.
Genuine Subaru parts and OEM-manufactured accessories also meet in-house design and quality standards that are unique to the brand and cannot be replicated anywhere else. Subaru parts are also unique as the Subaru models which they come from. When buying a spare part for your vehicle, it's good to check that the part meets these criteria before installing it.
Help maintain vehicle integrity
With the secondhand parts market awash with products from third-party manufacturers, it's no surprise that many of the spare parts you get on the secondhand market are not only the wrong part, they're often nowhere close to the original condition they should be in.
To help maintain your Subaru vehicle's integrity, sticking to genuine OEM parts isn't just a good idea, it's also an investment in your car's integrity and can even save you money in the long term.
Imagine in 5 years you want to sell your car. Your once brand-new Subaru has been fitted with multiple second-hand parts over the years – degrading your vehicle's integrity and slowly eroding your resale value. Any savvy buyer will be looking to see what parts have been used to replace old parts over the years.
Improve vehicle safety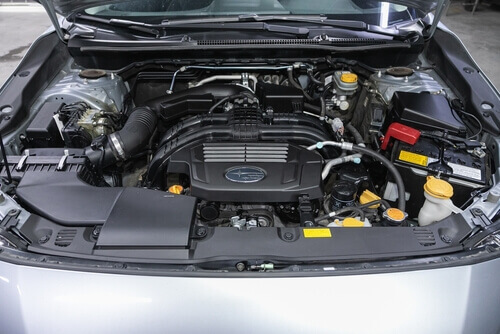 Repairing a vehicle with non-genuine parts isn't just bad news when you want to sell your car – it's also a risky thing when it comes to everyday driving. Genuine Subaru OEM parts are designed to deliver on stringent safety standards – something that you can't guarantee when installing any old part from the garage. Opting for genuine Subaru parts will mean confident trouble-free driving for you and your family.
But it's not only the integrity of the parts themselves that will make your drive safer. Installation techniques and standards also play a role in your car's safety. When you opt for genuine Subaru parts from your local Subaru retailer, you can be sure that a factory-trained team uses the right tools and techniques to ensure your vehicle's optimum safety standards are intact.
Preserve your vehicle warranty
Perhaps the biggest reason to stick to genuine Subaru Parts is down to Subaru's comprehensive parts warranty. If one of our Subaru Technicians fits a Genuine Subaru Part for you it comes with a 24-month unlimited kilometre part and labour replacement warranty. If you fit the part yourself then that part comes with a 12-month unlimited kilometre parts replacement warranty. This means that you can be assured that in the unlikely event that one of our parts fails, you have the backing of Subaru Australia to make it right and get you back on the road.
Fit your Subaru with genuine parts at City Subaru
When you fit your Subaru vehicle with genuine Subaru parts you're not just restoring your vehicle with original parts, you're also preserving your vehicle's integrity, value and safety.
As Perth's trusted source of Subaru genuine parts, the City Subaru team ensures the highest standards are met across our wide range of genuine Subaru accessories and parts.
Whether you're a long-term Subaru owner searching for a genuine spare part, or a quality service, or want to speak with the Subaru experts, our professional service technicians are ready to book you in for a service.
Shop for genuine Subaru and STI parts and accessories online, or visit us in-store at our location 5 minutes from Perth CBD.
Shop for Genuine Subaru and STI parts and accessories online