One of the main draws for those interested in a go everywhere wagon is the ability to go soft roading. This can open up a wide variety of camping trips and days at the beach that would not be possible with a standard car. The Subaru Outback 3.6R and the Holden Calais V Tourer are two prime examples of the modern wagon, and they are fierce rivals in the segment. Despite being wagons, both of these vehicles have SUV like touches that make them a viable choice for the casual soft roading enthusiast. Let's take a closer look at them and see how they match up against each other.
The Subaru Outback 3.6R
This high riding wagon has become a firm favourite with Aussie drivers, and it's the cheaper of the two. Both of these cars are powered by a 3.6 litre six cylinder naturally aspirated petrol engine, but there are key differences. The Outback uses a horizontally opposed configuration, and the Calais V Tourer uses a more traditional V6 layout. The Outback has plenty of equipment on board, such as: electrically adjustable heated leather seats, drivers seat memory locations, a front sunroof, adaptive cruise control, auto dimming mirrors, auto wipers, steering responsive LED headlights, a powered tailgate, a proximity key with push button start, dual zone climate control and 18" alloy wheels.
Fuel consumption is vital for planning an adventure, and the Outback has a claimed consumption of 9.9L/100km combined. In the city, this rises to 14.2L/100km, and on the highway only it drops to 7.5L/100km. This outperforms the Calais V Tourer which has the same size engine.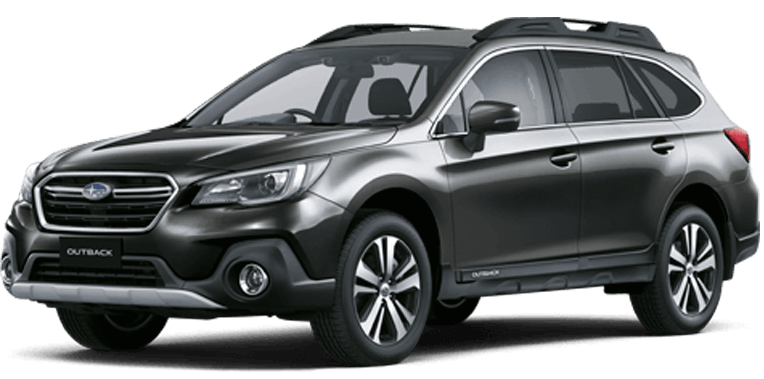 The Holden Calais V Tourer
This car is a more expensive proposition compared to the Outback, and you have to drop down to the more basic Calais Tourer to find competitive pricing. The Calais V Tourer does provide a few variations on the equipment levels to justify the heavier price tag, such as a panoramic sunroof, a heads up display, a drivers seat massage function, remote engine start, adaptive LED Matrix headlights and a hands free tailgate operation.
The Holden has a claimed fuel consumption of 9.1L/100km combined, which breaks down at 12.3L/100km in the city and 7.3L/100km out on the highway. This seems to be better than the Outback, but independent testers have returned more conservative fuel consumption figures of 22.4L/100km for city driving and 9.0L/100km for highway driving.
In Summary
The Holden has more extensive equipment and cheaper servicing, but this comes with a hefty price tag. The Outback offers a great deal of kit for the money, it's cheaper to buy, less expensive to fuel and has genuine off road credentials.
If they are looking for a Subaru Outback for sale, Perth based drivers should get in touch with us at Perth City Subaru. We offer a large selection of new, demo and used cars available, including the latest Subaru Outback models. We would like to invite you to book a no obligation test drive with us online, and you can try out the excellent Outback for yourself. If you need car financing, you will discover that our rates are competitive and the repayments will be tailored to suit your needs. Our sales team is ready to advise you on our latest hot deals, and they will be happy to answer any further questions you may have.