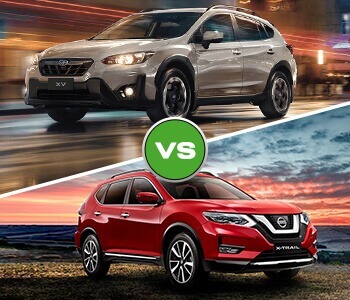 Whether it's a trip down south, up north, or even as a daily commuter – both the Subaru XV and the Nissan X Trail offer you a balance of power capability and space. When it comes to getting the most out of your pride and joy – these cars really dial it up a notch.
But which one should you drive away with?
Here's a Subaru xv vs Nissan X Trail comparison piece to help you make the right decision.
Subaru XV Top likes
1. Standard All Wheel Drive
2. Excellent safety equipment
3. Good handling
4. Value for Money
Nissan X Trail Top likes
1. Great driving dynamics
2. Solid fuel efficiency
3. Plenty of space in the boot
4. 4×4 optional
Subaru XV Summary
The Subaru XV is an all-rounder. Take it anywhere and everywhere without thinking twice. Its rugged appeal coupled with its superb safety tech and unbeatable Boxer engine makes for a top driving experience. If you're after a car that will keep you occupied with adventure, the Subaru XV is the one.
Nissan X Trail Summary
The Nissan X Trail is a car with many different faces. Choose from a range of models with seemingly endless combinations of power, capability and driving experience. Overall, this car is roomy and very capable off-roader – but somehow lacks the fun and excitement that ought to come with that activity.
Subaru XV vs Nissan Trail – which car is better off road?
When it comes to crossovers like the Nissan X Trail and the Subaru XV, you have to look at their off-road capabilities. Sure, they might be great city cars with excellent fuel efficiency, but you're in the market for a crossover because you want to have some fun off the beaten track.
If you want proven successful off-road in all trims, you can't fault the Subaru XV. It's fast, nimble and with all-wheel drive coming as standard – without any mention of X-Mode, you're already pushing the envelope when your tyres hit mud.
The Nissan X Trail, on the other hand, comes in hot with optional four-wheel drive – a step up from the XV in terms of capability (yes you'll actually be able to go 4-wheel driving), but when push comes to shove the two cars don't have too much separating them.
Subaru XV vs Nissan Trail – Which car is safer?
Chances are you're packing in the whole family for a big trip and you're going to want everyone to be as safe as possible on the roads. Both cars offer a suite of safety features that have earned them a 5-Star ANCAP safety rating, but the star of the show is the Subaru XV. With the world-renowned EyeSight® Driver Assist and Subaru's Vision Assist, camera and radar technologies, you can have peace of mind knowing your entire family is in safe hands when on the move.
Handling and driving experience – Subaru XV vs Nissan Trail
The entire SUV market is designed to do a lot – both on and off-road. What they sometimes struggle with is cramming everything while maintaining a solid driving experience. When sitting behind the wheel of both these cars you feel a sense of comfort and the typical can-do attitude of (most) engines across all classes. They also both lug a classic CVT transmission which is either a love or love-hate situation.
While both cars don't have much to bring to the table in terms of differences in their base models, the 2.0i-Premium Subaru, and pretty much any of the 4×4 X Trail models will delight any driver who wants to put their put down and get the holiday moving. All in all though we have to admit that the Subaru handles slightly better on the open road which, let's face it, will be where you drive the most.
Fuel economy – what to expect?
The Nissan X Trail combines 7.5 litres per 100km, not bad for a larger, heavier crossover. The Subaru XV does slightly better with 7 litres per 100km, however, if you choose to go hybrid then you've got a tighter margin with the Subaru XV Hybrid clocking in at 6.5 litres and the Nissan X Trail giving you a combined 6.4 litres per 100km. Either way, a welcome change at the gas station.
The verdict
When it comes to comparing the Subaru XV vs Nissan X Trail it all comes to your personality, and what you're willing to compromise on. Choose the Subaru, and you're in for adventures in a good looking crossover with proven AWD performance and a history of success off-road. Get the Nissan and you're in for a smooth and safe ride, with all the comforts that anyone could wish for in a small SUV under 50,000.
We'd choose the new Subaru XV any day of the week. It's fast, capable and gives you more bang for your buck. Drop into City Subaru today for a test drive in the new model and get a feel for the ride. Simply reach out online or give us a call.