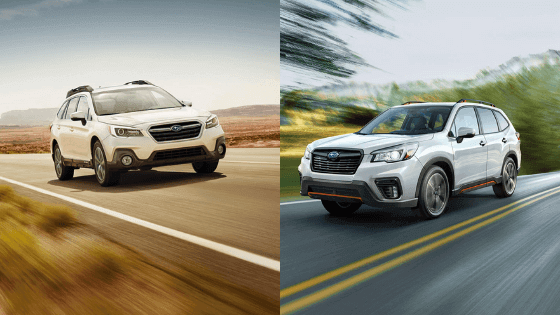 The Subaru Forester and Outback match power, style and all-around usefulness. They're snatching up swathes of the SUV and crossover market and taking no prisoners. But how do these actually compare on the road?
Basically, when it comes to choosing between the Subaru Outback vs Forester, many different aspects come into play. And we're not talking about mere looks and horsepower. These cars, despite their similarities, represent different drivers' needs and lifestyles.
SUBARU FORESTER VS SUBARU OUTBACK COMPARISON TABLE
Subaru Forester
Subaru Outback
Engine

Direct injected, horizontally-opposed Boxer 4-cylinder, petrol engine

Direct injected, horizontally-opposed Boxer 4-cylinder, petrol engine

Power and Torque

136kW@5800rpm – 239Nm@4400rpm

138kW@5800rpm – 245Nm@3400-4600rpm

Fuel Consumption

7.4L/100km

7.3L/100km

Steering

Electric power assisted rack-and-pinion

Electric power-assisted rack-and-pinion

Drive Type

AWD

AWD

Suspension

Front:

MacPherson strut type suspension

Rear: Double wishbone type suspension

Front:

MacPherson strut type suspension

Rear: Double wishbone type suspension

Seating

60/40 split folding rear seats

Manual seat height lifter – driver

60/40 split folding rear seats

8-way power seats – driver and passenger

Heated seats – front and rear

Safety Rating

5 star ANCAP safety rating (maximum 5)

*

2019

5 star ANCAP safety rating (maximum 5)*

2021
So what are these cars really about?
Let's set the record straight: the Forester is a compact SUV. The Outback is technically a station wagon. Yes, Subaru has been blurring the lines between these car groups for years – and they've gotten rather good at it.
Technicalities aside, at their core both these cars represent adventure. More than that, these models will happily deliver you to work and back without costing you more than your average hot hatch. When commuting, they're tame and smart. Engage X-Mode and veer off the bitumen and they'll become powerful and rugged.
Subaru Outback vs Forester: compare the power
Both models come with a 2.5L four-cylinder engine producing 182 horsepower, or if you're eyeing off the premium Outback you can always opt for the 2.4L Turbo Boxer engine which snaps out a hefty 260 horsepower.
Both the Subaru Forester and the Subaru Outback are paired with the usual Lineartronic® continuously variable transmission and signature All-wheel drive capability. This makes both Subaru vehicles a strong contender with any well-meaning SUV crossover from Audi, Volvo or even BMW.
How do they handle?
Put these cars on the road and despite having virtually the same engine they'll feel totally different behind the wheel. There are multiple reasons for this difference in ride quality. The most obvious is the larger wheelbase on the Outback. Compared to the Forester, this gives the outback a smoother and more controlled cornering experience. Take the same corner in the Forester and you'll feel more, well, like you're actually cornering.
This means the Forester is the sportier, more lively ride, while the Outback becomes the smoother, more relaxed choice. That being said, any long-term Forester driver will tell you that while that may be true, the Forester is actually very comfortable on the road.
Which is the better family car – the Subaru Forester vs Outback?
Let's get one thing straight – with excellent safety records, and loads of space, the Outback and the Forester would both be ideal family cars. But you're here for some competition. So let's break it down.
One of the biggest concerns for families is space. We're talking legroom and cargo space. Needless to say, both cars allow ample room in the front cabin and the back for passengers to feel at home. The Forester boasts 69.1 cubic feet of cargo capacity, but when you look at the Outback, a fully flat 60/40 split flat-folding back seat will afford you a whopping 75 cubic feet capacity.
But cargo space isn't everything. Let's talk about safety next.
How safe is the Subaru Outback vs the Forester?
Quick answer? Very. In fact, both these models received a strong 5 Star ANCAP safety rating in their latest testing. But Subaru's safety gear doesn't just cover mitigation – there's a whole slew of safety tech from Subaru's EyeSight technology which is now coming standard on both the Forester and the Outback. A lane departure warning system is only included as standard on the Outback – Forester buyers prepare to fork out a bit extra for the little things.
Which car is better for offroading?
For anyone searching for a bit of adventure, both these cars offer excellent off-roading capability with 8 inches of ground clearance making all the difference. The Outback gains from a standard, smart, multi-function X-Mode system delivering extra grip when needed and a smart hill descent function that takes the edge off slopes and difficult driving conditions. The Forester's lowest trim misses out on this feature but all higher trims get it.
With that in mind, you might want to consider the trade-off between purchasing a lower trim Outback and a higher trim Forester. If you're still up in the air or want to learn more about how the Forester performs as an SUV crossover, read this Subaru Forester review.
How do they compare in price?
The Outback and the Forester are fairly close on price. Of course, the final price will depend on which optional extras you're considering, but as a rough guide, expect to pay between $39,990 for the Outback, whereas a Subaru Forester will come off the shelf from $35,990 at the base model.
What's it like to live with these cars?
When it comes to everyday driving, both cars are easy to take pretty much anywhere. For those chasing better fuel economy, the Forester does come with a hybrid engine, leaving the Outback to cater to those wanting more power and oomph.
If you're planning on towing a utility trailer or a small fishing boat, then either of these cars will gladly tug your favourite toys without any qualms. But when the job is bigger than a quick run to the tip you'll want to choose the Outback. It comes out ahead here, easily towing most small and mid-sized camper trailers and toys up to 1,800kg. Bear in mind though, that's only applicable on the bigger 3.6L-equipped Outback; the regular 2.5L has a maximum towing capacity of 1,500kg and the 2.0L Diesel 1,700kg. Don't hang your hopes on pulling a full-sized yacht, but these cars will happily tow within their range.
Read more about Subaru towing specs: all your towing questions answered.
So, what's the verdict?
All in all, you can expect more in the way of features from the Outback, but value for money would say take another look at the Forester. And while this may sound like a win-win scenario, think carefully about your needs as a driver. You may prefer the 2022 or even the 2021 Subaru Outback simply because you think you're going to need the extra space down the line – perhaps the 2022 Subaru Forester's not going to cut it.
When it comes to the Subaru Forester vs Outback, both cars come with everything you'll need for an exciting adventure while winning over hearts and minds on the daily commute. To see which car best suits you, book your test drive today at Perth City Subaru.