Gearheads of Perth, stop what you're doing and listen closely. The Subaru BRZ (also recently named the 2022 motorsports car of the year), is back in 2023 with an exciting proposition – pure innovation coupled with driving pleasure.
Being Subaru's only exception to their all-wheel drive rule, this coupe gives you everything you could wish for in a high-performance car: a gutsy boxer engine, a low centre of gravity, 18-inch alloy wheels and of course a classic sports car look and feel – an ode to the original BRZ.
With a sleek and poised look, the Subaru BRZ is a sports car for sports car lovers, and we're here to give you the ultimate 2023 Subaru BRZ review and see how it stacks up against its mechanical sister, the Toyota 86.
Subaru BRZ review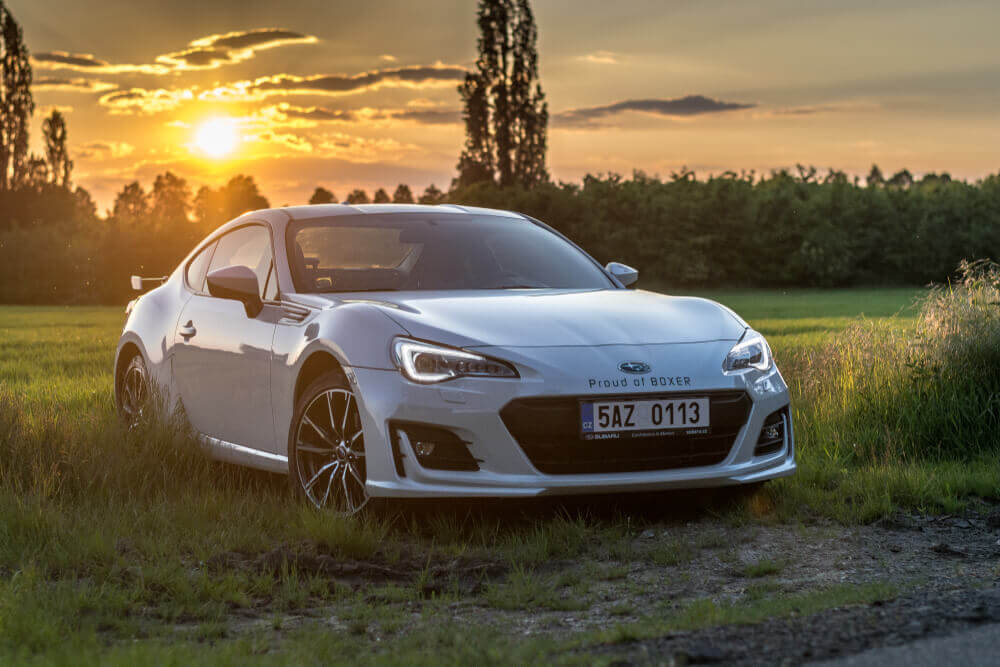 The 2023 Subaru BRZ inspires young and experienced drivers with rear-wheel drive fuelled excitement and plenty of power.
Although an outlier in the Subaru stables, this car is ready for the track any day of the week. Let's take a closer look at what this car has to offer in 2023.
BRZ engine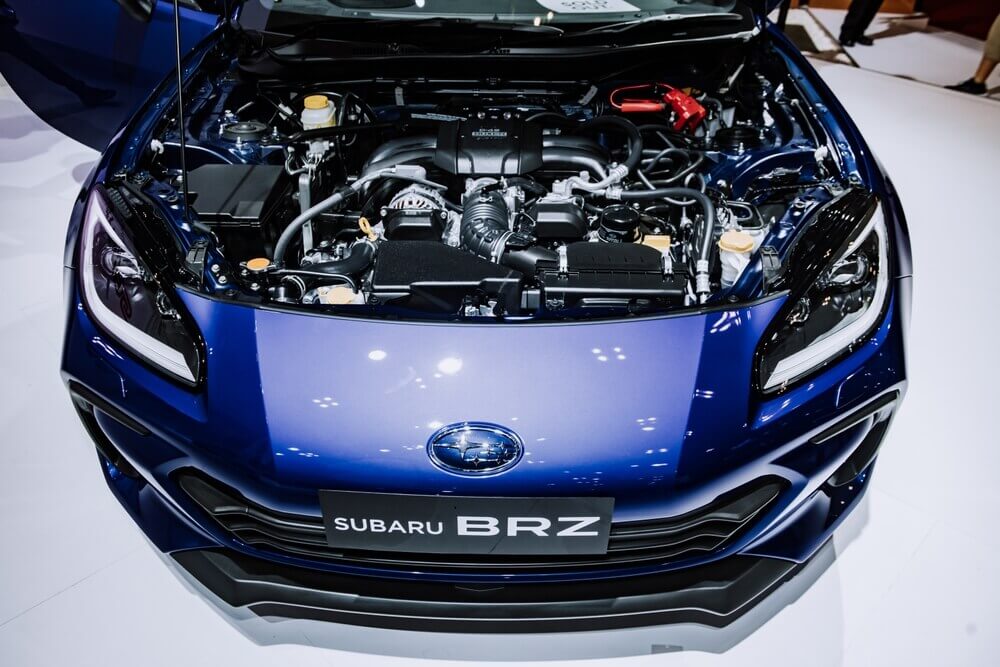 The Subaru BRZ is equipped for fun with a naturally aspirated horizontally opposed 4-cylinder boxer-four engine. Producing 228 horsepower, this engine has its DNA in Subaru's high-performance legacy, and taps into the very heart and soul of what it means to be fast, agile and stunning – all at the same time. Coming in either a six-speed manual or automatic transmission, the BRZ is also a people-pleaser.
Exterior and styling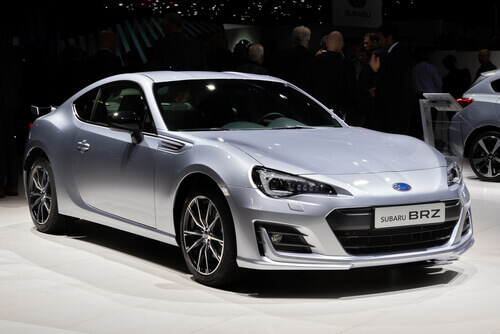 With a sleek and carefully designed exterior, the Subaru BRZ is a performance coupe from the inside – and from the outside. The BRZ is sculpted with aerodynamics in mind. During wind tunnel testing, the new BRZ produced outstanding results, reflecting its carefully controlled aerodynamics and expert Japanese engineering.
Interior and infotainment
The interior is polished and features the new configurable digital instruments panel where key performance stats like the tachometer and speedometer make for a vastly improved driving experience. The Subaru BRZ boasts 8-inch infotainment screens and a well-organised cabin. A good mixture of hard buttons and touchscreen makes for a user-friendly operation (we all know how annoying too much touchscreen activity can be).
Connectivity via android auto or Apple CarPlay comes as standard on all trims, making every drive as fun and entertainment-filled as possible.
Handling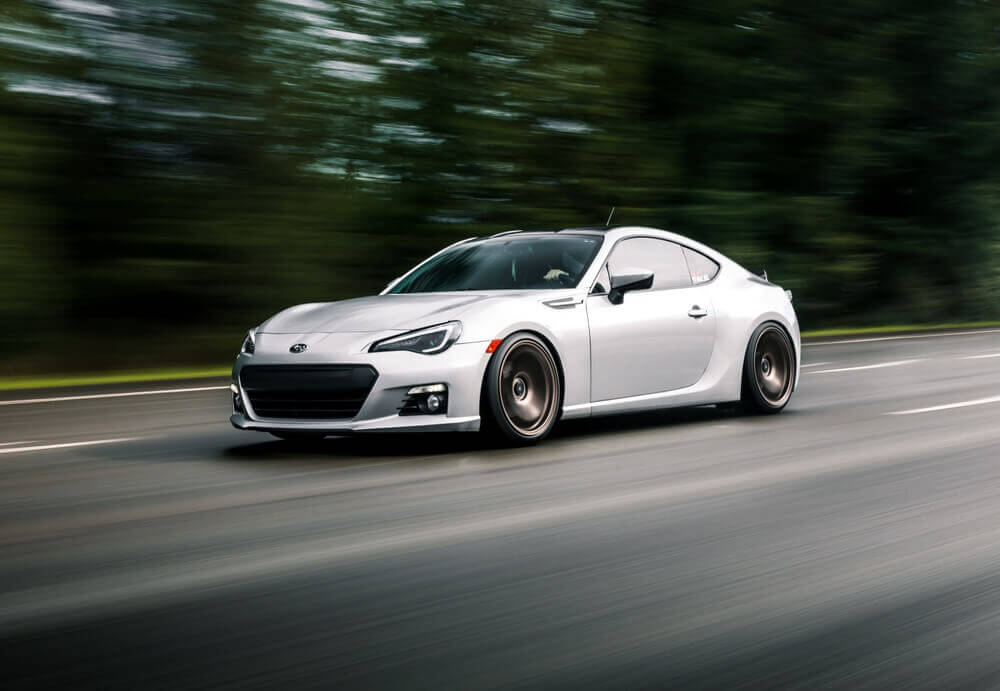 Wheel in hand, foot on the accelerator, this, and any other Subaru BRZ review will be forgotten as you sink into the seat, launching forward as you explore the upper echelons of your six-speed manual gearbox. Handling on the Subaru BRX is as exquisite as any fun, rear-wheeled coupe can be. Agile and engaging at every corner, its low centre of gravity delivers boundless joy around any bend.
Safety
With plenty of power and agility, you won't be surprised that this adventurism is balanced out with some seriously advanced safety tech from Subaru's world-leading toolbox.
Whether that's self-levelling (dusk sensing) LED headlights, Vision Assist, Adaptive Cruise control, or Lane Keep Assist you can be sure that the Subaru BRZ is tested and ready to be driven with confidence and peace of mind. If you're hunting for an automatic transmission, you can benefit from Subaru's legendary EyeSight Driver Assist technology suite.
Trims and price points
Buy the new Subaru BRZ in one of two trims – Premium or Limited – and you can expect both models to come in well below 50,000. Currently, you can bag a 2022 Subaru BRZ Coupe with a Retail Driveaway Price from $44,844, or upgrade to the Limited trim from $44,844. For stock inquiries and updated prices, contact Perth City Subaru and book a test drive today.
Ok, but what about the BRZ's fabled mechanical twin – the Toyota 86 (recently redubbed the GR86 in 2022)? With both cars being built from the same mechanical foundations, and with very similar price points, not to mention almost identical horsepower and torque, these twins can easily be considered rivals on the road.
So what sets these two cars apart? Below we'll take you through some of the key differences between the two.
Subtle styling differences
Anyone who comes across these coupes in the wild, would most likely only be able to tell the two apart by their badge and the front grille – which appears as more aggressive on the Toyota.
Apart from minor detailing differences on the headlights, the cars share almost all other characteristics of a sleek and sculpted sports coupe.
Interior specs are largely similar
Enter into these cars and you'll see that apart from badging, and minor detailing, these two cars are largely the same. The seat upholstery is different on the Subaru BRZ, as is the lack of name badging on the steering wheel – something that is more obvious in the Toyota.
Engine – Subaru's boxer features on both
The engine that makes these cars what they are is the exceptional Subaru Boxer engine. Yes, both cars have exactly the same engine – producing 228 horsepower (23 horsepower more than the previous generation) at 7,000 rpm and 184 pound-feet torque. This means their 0-100km/hr time is exactly the same too. Head to head, these cars would match each other all the way.
Handling
With all the power being sent straight to the rear wheels, these coupes are fun to drive from the get-go.
Despite their similarities, the BRZ and the 86 are built differently and handle slightly differently as well. The Toyota comes out a little slippery on corners, but not enough to spook novice drivers (this car remains a good choice for beginner drivers looking to hit the track). The Subaru maintains its smooth powerful ride, yet also can feel less torquier on the gear change.
Safety
It's the battle of safety suites: Subaru's EyeSight, vs Toyota's GR86 Active Safety Suite.
Naturally, both cars benefit from quality LED headlamps with auto-levelling capability, power-folding side mirrors, reverse cameras, and LED daytime running headlamps for added visibility. You can also expect the usual safety features like lane departure warning, rear cross-traffic alert, blind spot monitoring and adaptive cruise control in both models. Subaru's EyeSight technology has won world recognition for its excellent safety record and puts the Subaru BRZ at a slight advantage against the Toyota 86.
Feel the difference – test drive the BRZ today
With so many similarities, and even by looking at the specs, you can feel like you're just examining the same affordable sports car.
To know which one is right for you, the best way is to jump into that driver's seat and feel for yourself. If you're serious about owning a fun sports coupe like the new Subaru BRZ, then book a test drive with our team here at Perth City Subaru today.