At first glance, you're probably thinking these cars couldn't be more the same.
That's because, essentially, they are.
Aside from the badge and front grille, everything is screaming similarities, from the body to the country of manufacture.
But like all twins, there's some rivalry at play. And the story of the Subaru BRZ vs Toyota 86 is one to tune into. Which one is better you ask? Let's take a closer look.
A truly Japanese affair
Truth is, these cars go way back. Even before they debuted on the market in 2012, the joint plans between Japanese companies Subaru and Toyota had been in the pipeline for years.
It all started back in 2008. Toyota put ink on the page, essentially buying 16.5% of Fuji Heavy Industries, which includes the Subaru Brand. It was only a matter of time before these two Japanese car giants got together for a project involving the ultimate lovechild – a sports coupe.
As with any affair, there's a twist. In this case, both carmakers did something very surprising:
Subaru abandoned (for the first and only time) it's all-wheel drive system for a rear wheel drive setup.
Toyota created a car that doesn't look like a Camry or a Corolla (claps all round).
Exterior design BRZ Vs 86 : who does what better
Straight away, it's clear that styling and design were managed by Toyota. And, despite the overwhelming similarities, the lack of differences almost makes choosing a winner easier.
For starters, the Subaru BRZ has an inverted U-shaped grille with a fat upper lip supporting the rego plate. On the other hand, the Toyota 86 sports a trapezoid mouth that looks like it is forever gasping for air through its honeycomb teeth. This gets pretty subjective here, but badge and grille combined, it's the Subaru that comes out here with a tight win.
Interior – what to expect
Overall, you should be impressed. Both these cars offer a wide range of features that are neatly and thoughtfully nestled amongst leather trimmings and perfectly carved out surfaces. Getting comfy in either car is easy, with loads of room up front.
But looking a bit closer, there are a few things that are worth mentioning for the fence-sitters out there.
First up, while the cockpits are pretty much identical, don't expect the seat material to be the same. Subaru has gone the extra mile with Alcantara inserts – adding a layer of class you may not have seen coming. Not to mention, the leather accented steering wheel. With the 86, you'll have to upgrade for this. Furthermore, sitting at the wheel, you'll instantly notice that the BRZ has the quality edge, with small things like the steering wheel and, oh yes, heated front seats.
Subaru BRZ vs Toyota 86: who wins the tech battle?
When it comes to sizing up these sports coupes on their tech merits, it's worth noting that the BRZ has a few things standard that the 86 doesn't. Things like dual zone climate control, keyless entry, and an extra USB charging port.
Not only will you need to upgrade for these, but the Toyota 86 also suffers from a lacklustre infotainment system, making it the second choice to Subaru's StarLink system.
Aside from these minor differences, everything is as expected, with both sports cars offering as standard a 7.2-inch touchscreen, the usual Bluetooth connectivity, Apple CarPlay, and Android Auto.
Safety
Before we take off, it's worth mentioning that both cars have received identical crash ratings and share similar safety specs. Both the Subaru BRZ and the Toyota 86 contain the full range of safety bling and other helpful additions, such as LED headlights and smart stop technology.
Step on it

Fire up the engines – it's time for a drag race. But don't expect any exciting last-minute pull-aways here. These cars are virtually identical when it comes to acceleration: 100km/hr in 7.5 seconds. Under both bonnets sits a 2.0-litre four-cylinder Boxer engine, dealing out a smidge over 200 horsepower, and plenty of fun with the paddle shifters if you are so inclined.
Both cars are winners here; with power being sent straight to the rear wheels, you can expect excellent balance, power, and efficiency.
Handling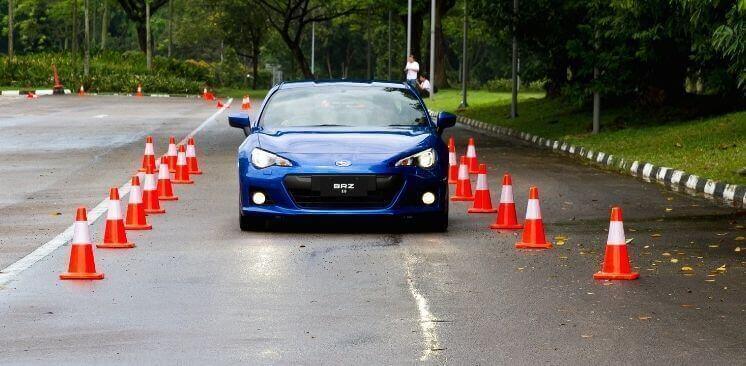 Taking these two sports coupes on a drive will guarantee a good time. After all, they're built for a bit of playful fun. Experienced drivers will appreciate the perfect balance between grip and power, while virtually anyone else can revel in the excitement that any sports coupe will deliver.
But that's not the whole story. After all, we're searching for a winner here. While both are unsurprisingly similar and engaging on the road, the BRZ takes the lead on suspension and cornering, with factory models delivering on all the goods as standard. Which is what brings us to the price.
Price and on-road costs
For the base models, you can expect to pay slightly more upfront for the BRZ. But that's with good reason, as the Subaru badge does come with some added bonuses that you must know about. Things like the 5-year unlimited kilometre warranty, and better resale value, plus the subtle things like better suspension, making it ever-so-slightly more attractive on fuel consumption.
The verdict
On paper, these sports cars look identical, but the reality is that driving them is a totally different experience. From the interior, tech, and handling perspective, anyone tossing up between these two cars should take a test drive first. While there are plenty of numbers and facts to sway you either way, with two cars so closely related, it might come down to how you're feeling on the day.
To settle it once and for all – get yourself into Perth City Subaru for a BRZ test drive today.
Subaru BRZ vs Toyota 86 – Quick Comparison
| | | |
| --- | --- | --- |
| | Subaru BRZ | Toyota 86 |
| Engine | 2.4-litre flat four-cylinder Boxer engine | 2.0-litre Boxer engine |
| Transmission | 6-speed manual or automatic transmission | 6-speed manual or automatic transmission |
| Power | 174kW | 152kW |
| Torque | 250Nm | 212Nm |
| Acceleration 0-100km/h | 7.8 seconds | 7.6 seconds |
| Cargo Space | 201L | 237L |
| Fuel Economy | 8.8-9.5L/100km | 8.4L/100km |
For baseline models – Subaru BRZ Coupe and Toyota 86 GT Coupe