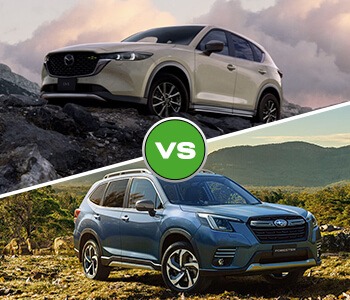 New SUV crossovers are quickly becoming a tough battleground for competitors looking to snatch up bigger shares of the market. The pitch is simple: more space, more speed, better off-road capability, all for much less than an actual SUV.
No two cars are better placed to tickle your small SUV fantasy than the Mazda CX 5 and the Subaru Forester.
But which car is better?
Here's your Mazda CX 5 vs Subaru Forester showdown.
What do these cars stand for?
There's no mistaking it, both the Mazda CX 5 and the Subaru Forester have a lot to offer. And before we get into the nitty-gritty, let's take a look at what these cars really mean for the driver.
First up, let's take a look at the Mazda CX 5.
This compact crossover offers drivers a great compromise between power, athleticism, space and all-around drivability. For anyone looking at the numbers, if you want a faster car then you can go ahead and pick the Mazda. But that's not the whole story.
Let's look at the Subaru Forester.
Rugged, capable, and better-looking, the Forester is the go-to for anyone wanting to go on real adventures. With standard all-wheel drive (AWD), you can count on the Subaru Forester to deliver – no matter the road ahead. It's got the punch that you'd want when faced with a dirt track and has the looks to go with it.
What's the deal with the Mazda CX 5
With seven trim levels available, the Mazda comes to the table with an impressive naturally aspirated (non-turbo) 4-cylinder producing 187 horsepower and 186 lb-ft of torque, while the upper echelons of Mazda's range of CX 5's contain 2.5-litre turbocharged 4-cylinder engines delivering an impressive 227 horsepower. All these configurations are mated to a 6-speed automatic transmission and sports mode.
Technology in the CX 5 is a big hit, with a 10.3-inch touchscreen replacing a smaller 7-inch infotainment system in previous models. This puts the Mazda firmly in front in terms of size – compared to the Subaru Forester's 8-inch infotainment display.
But the Mazda isn't the right choice for everyone – especially anyone who wants to go off the beaten track. Sure, it may have better-towing capacity, but its ground clearance and lack of off-road capability makes it more of a city-dweller at heart.
How does the Subaru Forester stack up?
With an enormous cabin and higher ground clearance, the Forester brings a bit more than just fancy specs to the table, with a proven track record of being a reliable and sturdy choice for drivers both on and off the road. The 2.5L direct-injection horizontally-opposed Boxer engine delivers 182 horsepower – matching previous years' models.
The Forester's gaping 74.2 cubic feet of cargo space (that's 818 litres with the rear seats up) and an extra-wide rear gate opening makes it an ideal road-trip car. If you want to leave the city behind in a flash – the all-new Forester Wilderness is geared up and ready to take you away for real.
Mazda CX 5 vs Subaru Forester: which one is better to drive?
When it comes down to the feeling you get clutching the wheel – something that's very important in a compact crossover – the Subaru Forester comes in ahead with a smoother, more commanding ride all round. And yes we're talking about the feeling you get when the tyres hit the gravel track – the Forester feels better all the way. But it's also the little things that make a huge difference here. We're talking about legroom, dual-zone climate control – the things that make your drive that little bit more luxurious.
But if you're hoping for a smooth car in the city too – both cars offer an effective solution to your daily commuting needs. As with Subaru's entire range, automatic continuously variable transmission (CVT) features across all Subaru Forester trims.
Mazda CX 5 vs Subaru Forester: Which is safer?
Compact SUVs like the Subaru Forester and the Mazda CX 5 are designed to give you the best of all worlds – that means giving you speed, off-road capability, and of course doing all this in the safest way possible. Many younger families prefer compact crossovers due to their price point, good fuel economy, and of course their excellent safety record.
The Mazda CX 5 and the Subaru Forester are no different.
While the Mazda CX 5 comes with some fancy tech of its own, the Subaru's EyeSight driver assist comes as standard across all trims – making it a preferred option for families looking to take advantage of the latest safety tech. That being said, both cars offer a slew of helpful safety gadgets including rear cross-traffic alert, driver attention alert, lane departure warning and many more.
At the end of the day, both cars have received a 5-star ANCAP safety rating – making them both ideal choices for the safety-conscious driver.
The verdict
To the untrained eye, these cars could easily satisfy your need for speed, safety, looks and maybe even space. But on closer inspection, the Mazda CX 5 vs Subaru Forester comparison is a lot tighter than you might think.
The fact is, these cars offer very different packages and cater to very different needs.
The Subaru Forester wants to bring you to your next holiday location – and not just down the freeway. It'll take you beyond the bitumen road and deliver you to places you might not have thought possible in your Mazda CX 5. So while the Mazda remains a great choice for anyone looking to snag a great city car, why not choose an all-rounder?
Why not settle the matter yourself. Test drive the latest Subaru Forester at our dealership in South Perth today.