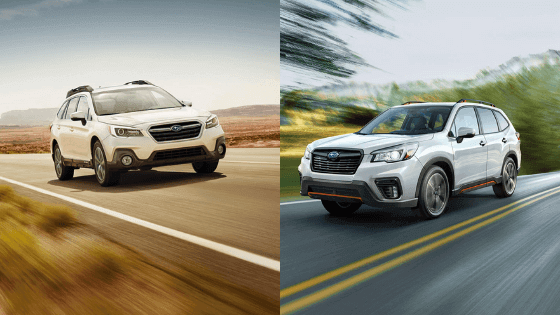 When you're heading into a Subaru dealership looking for a family vehicle, you'll be faced with the choice of SUV or a high riding wagon. If you're looking for a family-sized, multi-terrain SUV with lots of features, then you are spoiled for choice. The two obvious candidates are the Subaru Outback and Subaru Forester. So, here we'll compare these two models to help you make your purchase decision with a head to head of the Outback 2.5i Premium and Forester 2.5i-S.
Shape and Size
The Subaru Outback 2.5i Premium and Forester 2.5i-S are at a similar pricepoint but have distinct and different looks. The Outback is measurably, visibly longer, and has a look that is more like a jacked-up wagon rather than a traditional SUV seen with the Forester. If you look closely, you will see that the Outback is just 25 millimetres wider, so they are actually very close in size.
Storage and Space
The new Subaru Forester has increased the luggage space to 498 litres with the seats up that fall just 14 litres short of the Subaru Outback at 512 litres. Each model has a remote seat fold lever, but with the rear seats folded, the difference in cargo space increases to 33 litres, with the Forester at 1768 litres compared to the Outback's 1801 litres.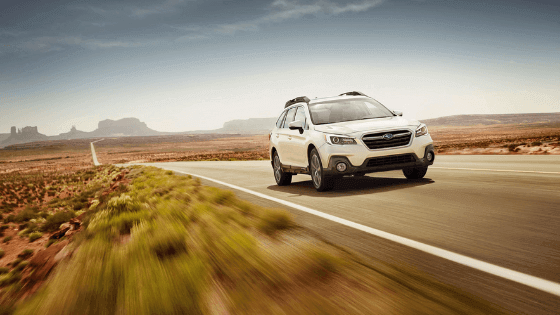 In the cabin, the generous passenger space in the second row is almost identical, but the Subaru Outback wins in terms of headroom. The lower set seating or the Outback is far more adult-friendly, so three tall adults can comfortably ride in the rear, when they may feel a little tight in the Forester. However, as a family vehicle, either model offers the space you'll need, whether you're doing the school run or heading out on a family road trip.
The Cabin Designs
The cabin designs are very different. The Outback has a more traditional design, while the Forester is more angular. The Outback does have more maturity with soft touchpoints and a classier feel. The Forester may be more appealing to tech lovers, as the three-screen arrangement provides all the information you could possibly want within easy reach. The cabin layouts have been carefully considered so that whichever model you opt for, you will find that everything you need is just where you need it.
On the Road
The first thing you're likely to notice is that the Outback is very quiet when you're out on the road. The noise of the powertrain is nicely suppressed, and the road and wind noise is buffered out. The Forester sounds good, but it does feel noisier compared to its stablemate.
You're also likely to notice that the Outback offers fantastic ride comfort. It offers support, body control, and compliance that are not as refined with the Forester. The Forester does have more of a rugged appeal on the road, but you may feel a little less composed when you're riding over rough terrain.
Both models are equipped with the naturally aspirated 2.5-litre petrol four designated "FB25". The Outback produces 129 kW of power, while the direct injection design of the Forester boosts the output to 136 kW. While both these engines are paired with a CVT, the Forester has the latest seven-speed version.
The Forester engine does provide sharper, quicker throttle response, but it has a similar fuel consumption rate of 7.4 litres per 100 kilometres compared to the 7.3 litres used by the Outback.
In terms of practicalities, both models are equipped with reverse cameras to make it easier in those tight carpark spaces and the turning circles are almost identical at 11 metres for the Outback and 10.8 metres in the Forester.
Safety
Subaru has a fantastic reputation for safety equipment, so you can be sure that both models have an impressive range of safety features. Both vehicles benefit from the superb EyeSight safety system. This suite of driver assistance safety features includes lane keep and lane departure warnings. The Forester also has the Driver Monitoring System that has facial recognition software that monitors whether you've got your eyes on the road. It has audio alerts to prompt you to recover your attention. It also prompts you if you don't set off when the traffic ahead starts to move off. So, if your mind does wander in traffic, you'll get a beep to focus your attention.
Features
Each model has 18-inch alloys, self-levelling LED headlights featuring steering response, leather trim, 8.0-inch infotainment touchscreen with smartphone mirroring and sat-nav, powered tailgates, eight-way electric seats and DAB+ radio. You really need to dig deep to find the differences in the specifications. For example, the Forester has a Harman Kardon eight-speaker sound, paddle shifters, LED taillights and heated auto power-folding mirrors. Meanwhile, the Subaru Outback has innovative stowaway crossbars and non-auto mirrors.
In short, both models provide a fantastic family vehicle, so it is down to a matter of personal preference. The Outback offers a classy, raised wagon that has some fantastically refined features, while the Forester is more a rugged SUV with some innovative features that will appeal to technology lovers. Both models have distinct personalities that offer different appeal. So, if you're really struggling to decide between the Subaru Outback and Subaru Forester, it is worth digging deeper into the specification lists to see which model offers the features that you consider essential in your next new vehicle. Of course, you can also take a test drive both models at your local Subaru dealership.
If you are interested in the Subaru Outback, Perth City Subaru is here to help. We have an impressive stock of brand new and quality pre-owned Subaru models, including the Outback and Forester. Our sales staff are also on hand to answer any of your queries or questions. We would be delighted to discuss your requirements, variant specifications, and finance deals. Call in and see us for your test drive today.