You're packing your trusty Forester for the big getaway, and…ouch.
You've run out of space.
No matter how hard you try, there's no way you're getting all that gear in the boot. The thought of sacrificing precious legroom is simply borderline barbaric.
This is when you know you need roof racks.
Chances are you probably already have a use for them, you just hadn't thought about it until now. Sure, the Forester's a roomy car, but there are a few benefits of roof racks that even long-time owners don't know about.
With that, let's get into the best roof rack and roof rails for Subaru Foresters.
What's to gain from roof-racks?
First up, roof-racks will save you precious space in the boot of your car. Your typical Subaru Forester roof rack can support cargo boxes and cargo baskets that can afford you (on average) a whopping extra 250-400Litres of space. That's the same as 1000 cups of…anything really.
So you can easily solve your chronic space problem, but what else do roof racks offer their owners?
More versatility – simply hitch your bike, surfboard, or whatever you're riding to the top.

Separation of dirty/smelly items with your clean, pristine car boot – like fishing tackle.

Safe space for risky items like dog food, sharp fishing gear, and those things you don't want your child to stumble across.

A level up on your adventures. Yes, some cars were born to be adorned with roof rails – some of the best camping trips are done with the help of roof racks.
What Subaru Forester roof rack options are out there and which one is right for me?
What you plan on transporting plays a big role in choosing the right one. If you're hoping to use it occasionally for larger trips, then getting a roof rack that is simple and easy to use will be your best option. However, you might have more specific needs. Here's a snapshot of what's out there.
Classic Cross Bars
If you want genuine Subaru Forester roof racks – the Thule Roof Rack crossbars are the way to go. Designed and made by Thule for Subaru, these lightweight and stylish roof racks are capable of supporting all your extra gear and special accessories, like your surfboard or fishing rod. If you're ordering online, and worried about the size and fit, these are your safest option given they're a custom design for the Subaru Forester.
Why do you want Thule Roof racks? If you're keen for an adventure and want to get it right from the start. Thule Roof racks are designed for your Subaru vehicle and are extremely lightweight – offering road trip enthusiasts a fantastic balance of durability and practically.
Roof Boxes to Keep Your Gear Protected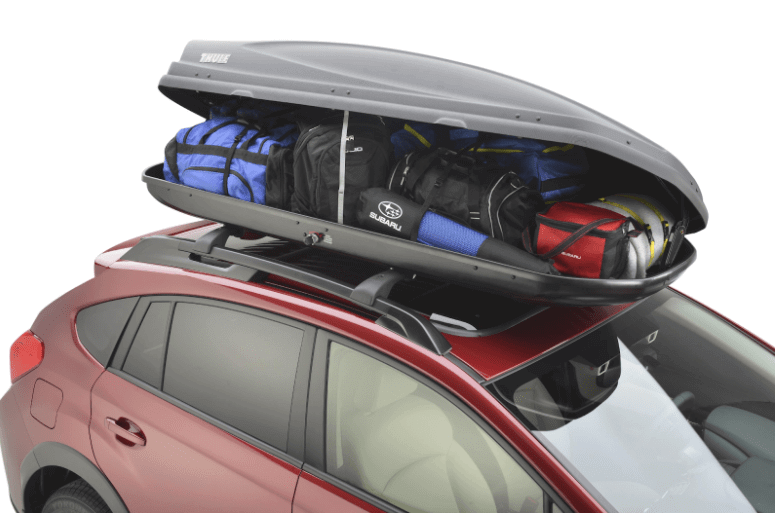 You can't talk about the best roof rack for Subaru Foresters without at least mentioning roof boxes, baskets, and carriers. Roof racks are your bread and butter of the whole roof operation that you'll soon be sporting on your Subaru Forester.
Your next step is to slap on a roof box to add those extra litres of space we mentioned earlier.
We can feel your pulse quickening. Which one is right for me? There are hundreds, thousands available online. Relax. Here's what you need to know: Thule makes the best roof box for a Subaru Forester.
Why?
They were asked by Subaru to make the best roof box.
Versatile and ideal for everyday use, the Thule roof box can be opened from either side, making it one of the more comfortable roof boxes out there. This system can be easily mounted onto your roof racks with a power quick-mount system.
Believe it or not, you can fit 400 litres of whatever you like into that cargo box. That's about 4x your average bathtub. Think about all the extra gear you're going to get into that big boy.
Whether you're camping out in the rough, transporting some hefty fishing rods, or loading up a bunch of sports equipment on a weekend, this is your answer to safe, efficient, and easygoing rooftop cargo carrying.
Convenient Cargo Baskets
Sometimes your load isn't as predictable as you'd like it to be – and having the space to pile on a whole bunch of stuff without being confined to the walls of a cargo box is the solution you need.
Easily installed and, with a few carefully tied straps, you can get away with carrying some pretty awkward stuff up there.
Only want to use it on the big trips? Cargo baskets are easily taken off and stored away until they're called upon to do their job.
Looking to Organise Your Rooftop Storage? A Roof Bag Might Be For You
When it comes to planning your Forester's rooftop storage system, organisation is key. Whether you're sporting a box or basket, having a system makes finding your belongings much easier when you arrive at your destination.
Thule's Roof Bags are your ultimate organisation and rooftop storage solution. Lightweight, durable, and easily accessed through wide-mouthed openings, nothing makes you more adventure-ready than a well-planned storage system.
Going on an adventure? Get the Bike Carrier and Kayak Carrier Combo
There's nothing like the fresh outdoors, wild landscapes, and meandering rivers to really get the holiday feel going.
Renting a kayak or bike on location can be expensive, plus there's always the fear of accidental damage that can take some of the real 'adventure' out of your day. That's why having the right rooftop bike racks can inject the sense of ownership and authenticity that your adventure deserves.
The Thule Adventure Pack with a nifty Bike Carrier and Kayak Carrier Combo is the solution to your on-roof equipment carrying needs. With easy installation and clip-in functions to secure your bike or kayak, your equipment is kept safe and cushioned by the well-designed tie-downs and bumpers.
Final Thoughts
Having enough space to pack (all) the things you need is important. Roof racks help you do that. By throwing that surfboard, kayak, or bike on the roof, you're freeing up critical space for more passengers and gear. The best Subaru Forester roof rack is made by Thule, and they make a pretty smart roof box too.
If you feel like levelling up your Subaru Forester Roof rack game, drop into our Perth dealership, order online, or give us a call. Our customer service team is ready to help you choose the best roof rack for your Subaru Forester.