With the surge in new Electric Vehicles (EVs), the automotive landscape is buzzing. As consumers increasingly lean towards electric motors over gas-powered cars, the challenge lies in identifying the right EV. While the journey is exhilarating, the path is filled with potential missteps, especially for new EV owners. It's crucial to rely on expert guidance and recognise the signs of overpaying.
At Perth City Subaru, we've always championed informed decisions, fostering trust and transparency with our commitment. As pioneers in the automotive realm, we believe that arming oneself with the right knowledge is not just about getting the best deal—it's about ensuring a sustainable, efficient, and fulfilling driving experience.
Expert Opinions on Overpaying
In the world of EVs, expert insights aren't just valuable—they're essential. Before taking the leap into electric driving, seeking advice from automotive experts can save one from potential pitfalls. We've heard stories of enthusiastic buyers who, in their haste, ended up with vehicles that didn't fit their lifestyle.
Many first-time EV owners, drawn by what they believed was the best EV deal, later found out their cars couldn't handle long distances or achieve the promised 100 miles on a single charge. Such limitations can be especially challenging for those who rely on their vehicles for daily commutes or longer journeys.
One buyer recounted a tale of an EV that seemed like a bargain initially, only to find its range inadequate for their daily commute. Another spoke of a car that, while sleek and modern, had hidden costs in its charging and maintenance.
Many buyers who were tempted by initial low prices, later found problems such as not enough mileage for long trips or high maintenance costs because of limited public charging stations.
As experts in the automotive industry, we strongly believe that a well-informed choice is rooted in understanding a vehicle's sustainability features, the longevity of its battery, its performance in varied terrains, and its adaptability to daily needs. The ideal EV experience isn't just about the car itself but about making a decision that aligns with both personal needs and larger environmental goals.
Signs You've Overpaid for Your Electric Car
Embarking on the electric vehicle journey is an exciting venture, but it's essential to be armed with the right knowledge to ensure you're getting value for your investment. Here are some signs that might indicate you've overpaid for your electric car:
1. Mileage Shortcomings
One of the primary attractions of an EV is its cost-effectiveness over time, especially with fuel savings. However, if your car doesn't achieve the mileage you need for your daily commute, leading to frequent charges and higher electricity bills, it might be a sign of overpaying.
2. High Maintenance Costs
The allure of EVs often lies in their reduced maintenance needs compared to traditional vehicles. If you find yourself frequently visiting the service center for expensive repairs, it's a red flag.
3. Limitations in Charging Options
In today's world, compatibility is key. If your EV struggles to connect with common charging networks or stations, it not only hampers convenience but also might be a sign that you've invested in a vehicle that's not quite up to industry standards.
4. Lack of Essential Features
Modern vehicles come equipped with a myriad of safety and convenience features. If your EV is lacking in these departments, yet comes with a hefty price tag, it's worth reconsidering its worth.
5. Inefficient Battery Technology
Speedy charge times and long-lasting battery life are hallmarks of a quality EV. A car that takes an eternity to charge or has a rapidly deteriorating battery might indicate an imbalance between cost and quality.
6. Poor Resale Value
An indicator of a vehicle's true value is its depreciation rate. If your EV's resale value plummets significantly faster than comparable models or brands, you might have paid too much upfront.
Subaru's Commitment to Value for EVs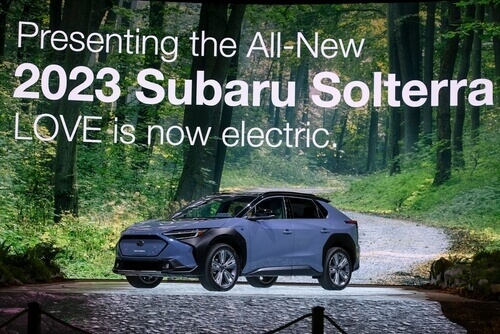 At Perth City Subaru, we're excited to introduce the all-new Subaru Solterra, a testament to our pledge to merge dependable all-wheel drive with innovative electric capabilities.
This vehicle, anchored in our brand-new e-Subaru Global Platform, is a harmonious fusion of modern tech and day-to-day practicality. We have always strived to offer the best electric car that not only meets but exceeds our customers' expectations, and with the Subaru Solterra, we're taking a significant step into the electric future without compromising on the values our community cherishes.
Safety & Technological Innovations
Safety has always been at the heart of every Subaru. Our 2023 Subaru Solterra is a shining example, integrated with our tried-and-true EyeSight Driver Assist Technologies. This suite includes features such as:
Adaptive Cruise Control
Advanced Adaptive Cruise Control
Lane Keep Assist
Lane Sway and Lane Departure Warnings
Lead Vehicle Start Alert
Pre-Collision Braking System and Brake Assist
Brake Light Recognition
Pre-Collision Throttle Management
Beyond safety, the Subaru Solterra represents our commitment to sustainability with its zero-emission StarDrive powertrain. With our extensive charging solutions at home and the vast EVgo network on the road, we're ensuring our community experiences the convenience they deserve, every step of the way.
Choosing Wisely in the Electric Vehicle Era
In the rapidly evolving world of electric vehicles, making an informed decision is more crucial than ever. We urge potential buyers to consult experts, delve deep into research, and be vigilant of the signs that might indicate overpayment.
At Perth City Subaru, our legacy is built on trust, providing vehicles that seamlessly blend value, safety, and sustainability. As you navigate the electric frontier, consider our commitment embodied in models like the Subaru Solterra. If you're in the market for a reliable new electric car that stands by these principles, we invite you to explore the Subaru Solterra.