The 2023 Subaru Crosstrek is finally here. Synonymous with innovation and dependability, it's left an indelible mark in the automotive world. The all-new Subaru Crosstrek takes a giant leap forward from their previous Subaru XV iterations, integrating state-of-the-art technology and remarkable performance features. The Subaru Crosstrek is trailblazing with its unmatched versatility and irresistible blend of design and features. Let's take a closer look at this remarkable vehicle, and prepare to discover why it stands out as an unrivalled game-changer in the world of small SUVs in our comprehensive Subaru Crosstrek review.
Snapshot of the 2023 Subaru Crosstrek
Engine: 2.0L Boxer engine with 115kW and 196Nm
Transmission: Continuously variable transmission (CVT)
Drivetrain: All-wheel drive
Fuel economy: 6.8L/100km combined
Features: Standard features include a 6.5-inch touchscreen infotainment system, Apple CarPlay and Android Auto, a rearview camera,and six airbags. Available features include 11-inch touchscreen infotainment system upgrades, Harman Kardon sound system, sunroof, and blind spot monitoring.
Safety: The 2023 Subaru Crosstrek has a five-star ⭐⭐⭐⭐⭐ Australasian New Car Assessment Program (ANCAP) safety rating.
First Impressions: The All-New Symmetrical All-Wheel Drive Subaru Crosstrek
First impressions count, and the Subaru Crosstrek is no different. With a muscular frame and a rugged charm that is quintessentially Subaru, the new Subaru Crosstrek impresses right off the bat. Its compact design, sturdy look, and high ground clearance hint at its innate off-road capabilities, setting a new benchmark in the small SUV category.
A Closer Look at the Exterior: Reviewing Subaru Crosstrek's Bold Persona
The Subaru Crosstrek isn't just robust; it's elegantly so. Its dynamic lines and rugged wheel set make a bold statement. The rear roof spoiler, along with optional enhancements such as the STI roof spoiler and the STI flexible tower bar, add a sporty edge to this small SUV.
Subaru Crosstrek's Trim Levels and Pricing: Making the Right Choice
Subaru Crosstrek offers a variety of trims, each with a unique blend of features to cater to a wide range of preferences. The pricing varies with each trim, offering affordability and luxury in one impressive range. Here, affordability meets performance, comfort, and cutting-edge technology.
Revving up: Exploring the Power and Efficiency of Subaru Crosstrek
Beneath the hood of the Subaru Crosstrek lies the heart of the beast – a standard 2.0-litre four-cylinder engine that harmoniously marries power and fuel efficiency. For those seeking a spirited drive, the Subaru Crosstrek offers an available 2.5-litre engine that delivers enhanced horsepower and torque, setting a new rhythm to the beat of the drive.
Balancing Performance: Subaru Crosstrek's Fuel Efficiency
Subaru Crosstrek strikes a balance between power and efficiency that is sure to impress. The combined 6.8L/100km ratings reveal just how far you can go on your adventures, and in the city, while being gentle on your pocket.
Subaru Crosstrek's Performance: Mastering the Balance
The Subaru Crosstrek's performance is a testament to its unwavering commitment to reliable performance and practicality. Its standard all-wheel drive gives drivers confidence, no matter the terrain or weather conditions. Subaru's latest generation EyeSight Driver Assist System, part of the car's intelligent safety features, forms a safety triangle around the vehicle, akin to an invisible shield.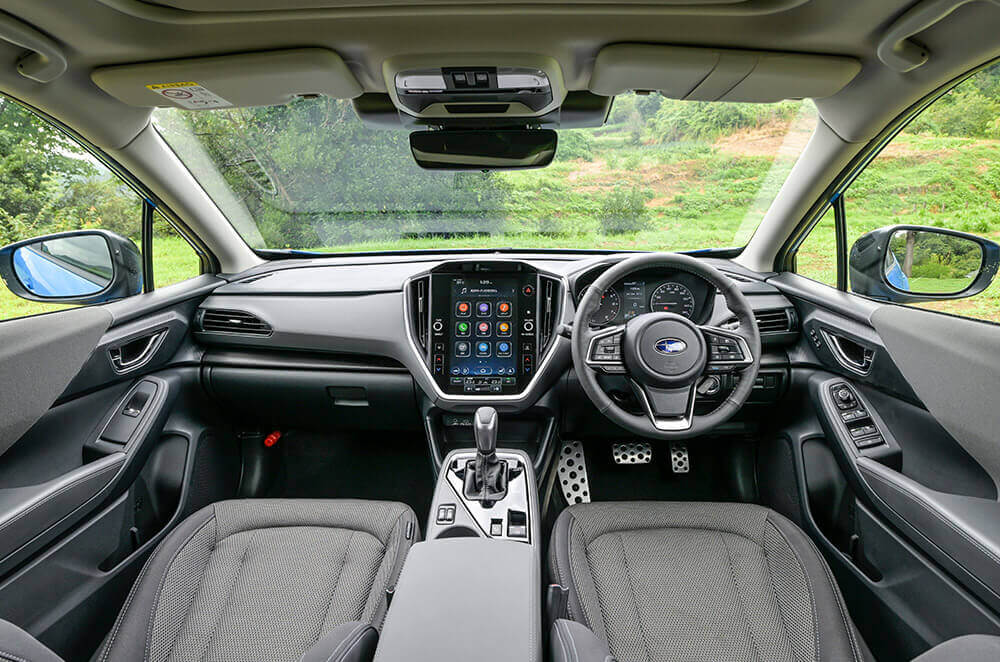 Inside the 2023 Subaru Crosstrek: A Haven of Comfort and Convenience
The interior of the Subaru Crosstrek is where comfort meets practicality. Its thoughtfully designed cabin and clever use of space ensures ample room for passengers and cargo alike. The cargo step panel – resin and the option to choose from essential, explorer, and protection pack mats, in both carpet and rubber, offers an unmatched level of customisation.
Tech-Savvy Interior: Subaru Crosstrek's Modern Edge
Stepping into the Subaru Crosstrek is like stepping into the future. The 6.5-inch touchscreen, wireless Apple CarPlay, Android Auto, and new centre information display bring seamless smartphone integration and a user-friendly interface. A wireless Qi charger adds to the tech suite, ensuring you're always connected, even on the go. Want more? Upgrade to the WIlderness model for a game-changing 11-inch touchscreen monitor, with inbuilt navigation and split-screen viewing capacities.
Safety First: The Subaru Crosstrek's Impressive Safety Standards
The Subaru Crosstrek has an excellent safety record, backed by high ratings from international bodies such as the Australasian New Car Assessment Program (ANCAP).
ANCAP, a leading safety advocate, awarded the Crosstrek a top 5-star safety rating, reflecting its strong performance in Adult and Child Occupant Protection, Vulnerable Road User Protection, and Safety Assist.
The high safety rating is improved by Subaru's innovative EyeSight Driver Assist Technology, adaptive cruise control, pre-collision braking, and lane-keeping assist. All of which are all available as additional features.
The combination of intelligent features and robust structural design significantly contributes to the Crosstrek's superior safety ratings.
Superior Handling & Suspension in the Subaru Crosstrek
The Subaru Crosstrek showcases superior handling and suspension, adept at navigating city streets and challenging terrains.
It employs Subaru's Symmetrical All-Wheel Drive for enhanced stability and Vehicle Dynamics Control for precision and sharp response.
The versatile suspension system is built for comfort and resilience, absorbing shocks effectively across varied terrains.
With Electric Power Assisted Steering, the Crosstrek adjusts to driving conditions and speed, balancing responsiveness and manoeuvrability.
2023 Subaru Crosstrek Review: The Verdict
As we pull over, it's clear that the Subaru Crosstrek epitomises versatility. With its compact design, robust performance, and an irresistible blend of thoughtful features, it rises as a strong contender in the small SUV category. From the hustle and bustle of weekday commutes to the thrill of weekend escapades, the Subaru Crosstrek proves itself as a trustworthy and capable companion.
A Nod to the Planet: Subaru Crosstrek's Environmental Impact
In a world increasingly aware of environmental responsibility, the Subaru Crosstrek steps up to the plate. With efficient fuel consumption and emission ratings, it's a car that doesn't just take you places; it considers the planet along the way too.
Side-by-side: Comparing the Crosstrek Models
| | |
| --- | --- |
| Base | 6.5-inch touchscreen display, Apple CarPlay, Android Auto, rearview camera, six airbags, all-wheel drive. |
| Premium | 6.5-inch touchscreen display, Apple CarPlay, Android Auto, rearview camera, six airbags, all-wheel drive, heated front seats, blind spot monitoring, lane departure warning |
| Limited | 11-inch touchscreen display, Apple CarPlay, Android Auto, rearview camera, six airbags, all-wheel drive, heated front seats, blind spot monitoring, lane departure warning, sunroof, Harman Kardon sound system |
| Wilderness | 11-inch touchscreen display, Apple CarPlay, Android Auto, rearview camera, six airbags, all-wheel drive, raised suspension, black exterior accents, Wilderness badging |
The 2023 Subaru Crosstrek: Available Now
A car designed for adventure, packed with the latest technology, ready to take on any terrain and weather, all while keeping you and the planet in mind. The Subaru Crosstrek is more than just a car; it's a lifestyle.
The Subaru Crosstrek sets itself apart with its unique blend of attributes and unmatched versatility, reflective of Subaru's commitment to delivering vehicles that are reliable, enjoyable to drive, and ready for adventure. So when you hear 'Subaru Crosstrek', know that it stands for a car designed for the discerning and the adventurous.
Now that you're aware of the 2023 Subaru Crosstrek's exceptional qualities, isn't it time you experienced it for yourself? Visit City Subaru today to book a test drive. Experience first-hand the blend of power, comfort, and class that is the all-new Subaru Crosstrek. Your next adventure starts at Perth City Subaru!