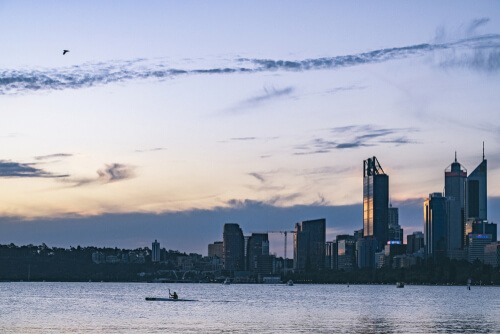 If you're a newbie to the sport, a pro who's just won gold, or just looking for a fun leisurely outdoor activity, Perth's kayaking scene is teeming with stunning paddle trails.
For starters, you've got the mighty Swan River winding its way to the coast. This offers some unique paddling spots all year round. And then there's the open ocean, which can be equally as stunning and, on a calm day, as tranquil as a pond.
So, where should you park up your Subaru Outback and get kayaking? Here are the best places to kayak Perth.
1. Matilda Bay, Crawley
With grassy foreshore leading down the water's edge, Matilda Bay is the ideal spot to park up for the day and dip your feet in the water. The water's not too far from multiple parking spots, so getting your canoe or kayak to the water is as simple as it gets.
On the water, you can opt for either direction – towards the city, or explore around the headland where pelican point offers some stunning views of Melville water.
2. Rockingham to Penguin Island
If you've ever been on the Penguin Island ferry before, you'll know how stunning this area can be. Kayaking around is no different. Sheltered by Garden Island, the waters are usually calm and protected, and in some spots only a metre deep.
From the Shoalwater Foreshore, it's only a short paddle across to Penguin Island where, if you've got the time, you should visit the Penguin Island Discovery Centre. Make sure to bring life-vests and plenty of water to keep you going.
If you're keen on sticking to the water, why not kayak around the island? There are stunning little coves that are normally buzzing with local species of bird, and you may even be lucky to catch a dolphin frolicking in the shallows.
3. North (or East Fremantle) to Chidley Beach Park
Park anywhere just north of Stirling Bridge, either off Riverside Drive in East Fremantle or across on the North Fremantle side at Johanna Street, and paddle north.
This route is ideal for anyone who hasn't explored the Swan river before and wants to see more of it, from a different perspective.
Towering limestone cliffs around Blackwall Reach plunge into the glistening waters below – just remember to keep an eye out for larger boats and ferries making their way up and down the river.
Finally, after snaking around you will reach Chidley Beach Park, which is a great place to stop and bring out the packed lunch.
4. Freshwater Bay to Point Resolution Reserve
Freshwater Bay is a top kayaking spot in Western Australia. With calm waters and large trees providing shade over the grassy areas, you can't really get a better spot to gear up and push off.
Set your eyes directly across the bay and start paddling. If you want a longer route, follow the bay around past Claremont Jetty, until you reach Point Resolution Reserve, which will no doubt bring you into contact with some black swans at some point. If you park up and walk up the wooden steps you'll find a large grassy park ideal for a frisbee session or a picnic.
5. Maylands Foreshore to Ascot waters and Kuljak Island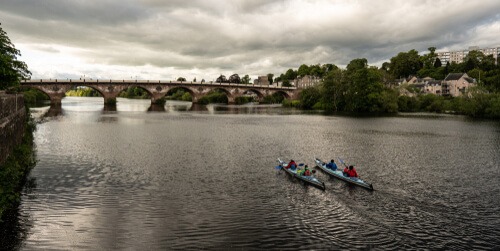 A mere stones throw from the city and East Perth, Maylands Foreshore is easily accessible by following Peninsula Road until you reach the Reserve and spot the water. This part of the Swan River is as stunning as ever. With plenty of parking available, the water is only 50 metres from your car, and you can almost forget you're in a city.
From the Maylands side of the river, head upstream past Tranby Reserve and across to explore Kuljak Island and Ascot Waters. With stunning waterways and canals bordered by native trees and shrubs, this is a side of Perth many don't know about.
6. Ocean Kayaking – South Beach to Coogee
If you're after a sense of the open waters, with no trees crowding you in, and sandy beaches galore, it's time to dip your kayak into the Indian Ocean and let loose. Remember to bring a lifejacket for this one and don't stray too far from the coast.
South Beach is a great starting point – but feel free to slide in anywhere along this stretch down to CY O'connor Beach. Head south past the Port Coogee Marina, taking care not to obstruct any larger boats that may be entering or leaving. If you bring your snorkel, this is where you take it out and have a dip.
There's a shipwreck called the 'Omeo Wreck' and it's worth getting wet for. Just south of the Marina, and only just underwater – this ship ran aground in 1905 and has been collecting coral and fish ever since.
Get set up with the right gear
Getting around in Perth is easy in your Subaru Outback. It's the ideal car for the job. But when it comes to transporting your kayaks, you want to know they're safe and secure on your roof.
That means getting the right equipment from the start.
Here at City Subaru, we take pride in offering the best – direct from Australia's number 1 source of genuine Subaru parts.
Start your kayak adventure like a pro
With a genuine Subaru Thule DockGlide Kayak Carrier, you can have peace of mind knowing your equipment is safe and secure. With the ability to carry kayaks up to 35kg in weight, you can easily load and unload your equipment without the hassle of scratching your car.
Shop online, or visit our store today and start your kayaking adventures with style.