Midsize SUVs are all the rage. And it's easy to see why. With enough space in the boot to cram a couple of eskies and enough ground clearance to climb over some of Australia's most hostile terrain, these go-anywhere cars are in hot demand.
But when it comes down to choosing your ideal SUV, it could be more difficult to decide. After all, these cars are known to compete down to the last kilometre per litre.
No comparison is tighter than the Jeep Grand Cherokee vs Subaru Forester.
Here's how they compare.
Why buy a mid-size SUV?
You might be wondering what exactly the benefits of investing in a mid-size SUV are? It's a valid question – why not go all the way and fork out for a full-size SUV? The answer has to do with your lifestyle, and how you drive your car – be it every day, every few days, or maybe it is your second car.
Mid-size SUVs offer better fuel consumption than their larger brothers and sisters. They also offer far more off-road and adventure capability than anything on the smaller side.
Jeep Cherokee vs Subaru Forester – exterior design
These cars are essentially designed for the same roads, same holidays, same daily use.
But one of the main differences when it comes to these two cars is the exterior design. And you'll see it straight away – the square-shaped Cherokee sits heavy on the tarmac at 5,500 lbs, while the Subaru Forester weighs a comparatively meagre 4,891 lbs – a significant difference. If you're after a car that wants to be a full-size SUV, you'll have to be the judge of that one.
| | | |
| --- | --- | --- |
| | Subaru Forester | Jeep Cherokee |
| Wheelbase | 105.1 inches | 106.5 inches |
| Overall Length | 182.1 inches | 182.0 inches |
| Width | 71.5 inches | 73.2 inches |
| Height | 67.5 inches | 65.7 inches |
| Wheels | 18 inch alloy | 20 inch aluminum |
Engine, powertrain and transmission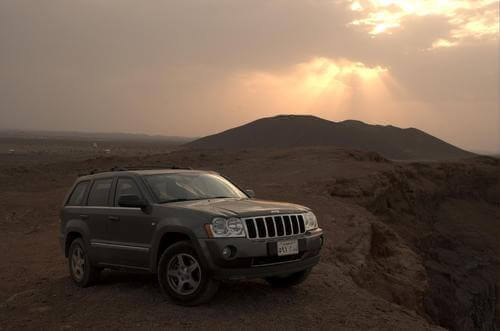 When it comes to grunt, these cars are actually closer than you might think, forgetting the higher trims, let's focus on what comes standard. The Subaru Forester's iconic 2.5 litre Boxer engine provides some serious torque. It's married to Subaru's classic continuous variable transmission – making for smooth acceleration.
Put these two on a racetrack and you'd probably see mixed results. While the Cherokee sports a 2.4-litre engine, it's no match for the lighter, more versatile Subaru Forester. If you wanted to catch up to the Forester you'd have to spend more on the upgraded 2.0-litre turbo engine, delivering a hefty 270 horsepower as well as better mileage all around.
| | | |
| --- | --- | --- |
| | Subaru Forester | Jeep Cherokee |
| Engine | 2.5-liter I4 | 2.4-liter I4 |
| Horsepower | 182 hp @ 5.800 rpm | 180 hp @ 6,400 rpm |
| Torque | 176 lb-ft @ 4,400 rpm | 171 lb-ft @ 4,600 rpm |
| Transmission | Continuously variable | Automatic, 9-Spd |
| Fuel Economy | 7.4L/100km | 8.5L/100km |
| Other model | – | 3.2-liter V6; 2.0-liter turbo I4 |
Jeep Grand Cherokee vs Subaru Forester: who's better off-road?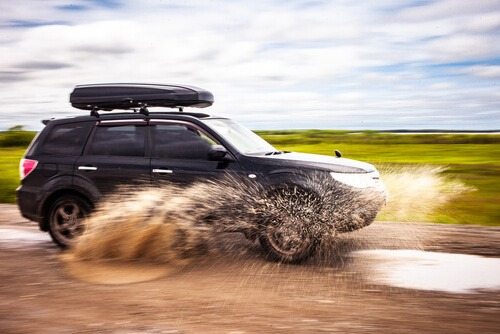 Take the battle off-road and things get even harder to judge. With enormous 8.7 inches of ground clearance, it comes as no surprise that the Subaru is super capable when the going gets rough. Not to mention the standard all-wheel drive; while you may have an optional 4 wheel drive on the Cherokee, nothing beats universal all-wheel drive. Both cars, however, are excellent at their job and will bring you to the most remote places out there without a hassle.
Technology and connectivity
No mid-size SUV is complete without excellent tech to keep you entertained and comfortable on long drives. Both the Subaru Forester and the Jeep Cherokee offer a range of up-to-date tech that will fit the bill. Expect a slightly smaller touchscreen on the Forester, but the Subaru makes up with its StarLink connectivity and infotainment system – which provides seamless entertainment for the whole family.
| | | |
| --- | --- | --- |
| | Subaru Forester | Jeep Cherokee |
| Connectivity | STARLINK Multimedia system | Uconnect 4C NAV multimedia center |
| Apple CarPlay/Android Auto | Yes | Yes |
| Infotainment Screen | 6.5 inch standard | 7 inch standard |
| Bluetooth | Yes | Yes |
Which is better: Subaru Forester or Jeep Cherokee?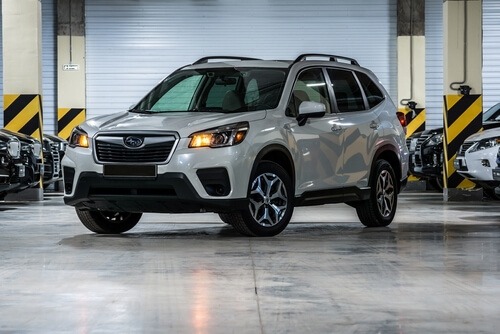 When it comes to daily utility, both vehicles offer adaptive cruise control, heated seats, and excellent cargo capacity – ideal for long road trips. While the Cherokee may have better-towing capacity, you can expect the Subaru to handle better on the freeway. Both cars are also very safe. With a 5-star ANCAP safety rating, you can have peace of mind on the road.
Verdict
Both of these cars have a lot to offer the frequent road tripper or anyone who feels they deserve to see the sights but don't have the wheels to get there.
So which one do we choose?
When it comes down to all-around rugged off-road capability you can count on the Subaru Forester to deliver – no matter what trim you choose. While the Jeep is at home both in the suburbs and on the sand, it only matches the Forester when you pay more for the extras.
Take a new Subaru Forester for a test drive today. Contact City Subaru for more details.