It's the old conundrum – where to go if your car needs a service. Do you opt for the cheaper mechanic down the road who claims it will be done within a day? Or the dealership where you're faced with higher prices but a way better customer experience?
The dealership service vs mechanic debate is heating up with many car owners wondering which one is best. While some claim to have found 'the mechanic' who always gives them a good deal, others are less optimistic. As prices rise, many people might be tempted to go for the cheaper option. But is it really worth it?
Let's find out.
Dealerships vs mechanic. Which is cheaper?
When you are price sensitive, a smaller mechanic might be your first option to look at. You might even compare a few quotes and then go with your gut. But Let's take a look at why independent mechanics are cheaper than dealerships.
It comes down to quality and standards. A dealer will most likely fix your car using the parts he has available, and get the car back up and running with no problems. A qualified dealership on the other hand upholds higher standards both in the labour and in the quality of parts they use to fix your vehicle. In the long run – you may find that a dealership service is actually more valuable for your car. That's the difference.
Think about your warranty
When it comes to choosing between a dealership service vs mechanic, your manufacturer's warranty is of primary concern.
Of course, if your new car warranty is still valid, any repairs that are required may be covered. A brand new vehicle may also have a limited free servicing period that you can take advantage of. Once the vehicle is out of warranty you can rest easy when choosing Subaru car servicing, Australian customers should note that Subaru has fixed pricing for all work that is carried out. However, the servicing pricing can vary a little between Subaru dealerships so it's a good idea to check the pricing ahead of time.
Private mechanics on the other hand won't be able to preserve your extended warranty, let alone carry out work as per the manufacturer's specifications. For example, once you take your new Subaru Outback to a mechanic your Subaru warranty (if valid) will become void.
Dealerships have specialised expertise
Many local garages have excellent mechanics that can work on a wide variety of car models. Some garages specialise in a particular make or have a particular niche that they fulfil such as working on classic cars. However, if you have a Subaru vehicle, then choosing a service centre would be a better option. All Subaru technicians are trained at the Subaru factory to work on Subaru vehicles. This level of intimate familiarity is unheard of at the local garage. Your Subaru vehicle represents a significant financial investment so it makes sense to have the most qualified people working on it.
Consider genuine Subaru parts
While any well-meaning local garage will say to you they will fix your car up, that probably won't guarantee they'll use the right original manufacturer parts. With the number of car models they see every week, chances are low that they have any genuine Subaru parts on hand.
This could lead to a couple of outcomes. Firstly, they may have to request the genuine part which will delay the rectification of the problem until the part is delivered. This means that your vehicle may be off the road for a longer period. Secondly, the garage may fit a generic part to get the job completed quickly. In some cases, a generic part will do the job adequately, but a genuine part is far better in most cases. When you receive a Subaru car service, Australia based customers can rest assured that only genuine Subaru parts that are designed for your vehicle are used.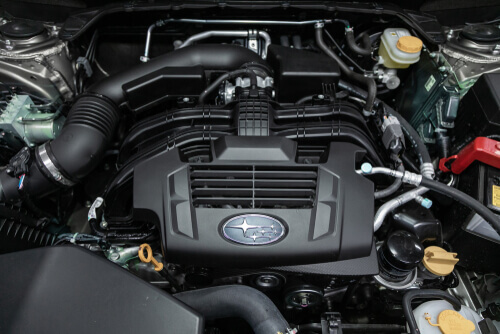 How much do you value customer experience?
When it comes to customer service, dealership service vs mechanic offer two different approaches. While small garages do have a reputation to uphold, the sheer number of new customers they get allows them to be relaxed when it comes to interacting and communicating with their clients.
Dealerships, on the other hand, have the necessary experience and know-how to make your stress-filled week a little more relaxed. Whether it's excellent customer service techniques, shuttle service or temporary replacement car offers, you can be sure that a professional car dealer will make your car service experience as smooth as possible.
Get the best of both worlds with a Subaru service
Here at City Subaru, we know what it means to have a friendly local connection that you can trust with your new car, no matter what. We not only give you the customer service you deserve, but we also ensure that our pricing structure is fixed – meaning you'll always pay the right amount for the job.
Our professionally trained technicians can carry out all your Subaru service needs. If your car is due for a scheduled service, or needs a check-up, get the best of both worlds at City Subaru. Give us a call, or drop by our South Perth Dealership and speak to the experts.