There are a multitude of things that can go wrong when servicing a car. Whether it's a sloppy DIY job or a dodgy mechanic, car owners can easily spend thousands of dollars due to common car mistakes when it comes to maintenance and servicing.
Fact is, both old and new car maintenance mistakes are rife. And it's up to you to make sure you're not falling into the trap. So before you put those gloves on, or hand over your pride and joy for a service, read these 10 common car mistakes made during and before maintenance.
Top 10 Common Car Maintenance Mistakes to Avoid
1. Running your car down to the last drop
2. Ignoring warnings on your dashboard
3. Jump starting your car the wrong way
4. Using the wrong oil
5. Ignoring tyre pressure
6. Letting your tyres bald
7. Forgetting to check fluid levels
8. Running your radiator dry
9. Using foreign car parts
10. Using an unqualified service mechanic
1. Running your car down to the last drop
With fuel prices soaring, it's no surprise that many of us are seeing how far we can stretch that last drop in the tank. After all, it'll probably make it. Right?
Not so fast. Running your tank into the ground might make you feel like a supersaver, but it can actually harm your engine and cost you more in the long run. That's because the fuel pump relies on a healthy supply of gas in the tank to lubricate and cool itself while you're under steam. Running your engine down to the last drop can put your fuel pump under unnecessary stress and even put you back a costly sum to replace.
2. Ignoring warnings on your dashboard
Dashboard warnings come up for a reason, and chances are it's important. Some of the most common mistakes are made when ignoring:
Low tyre pressure warnings
Low oil level warning
Engine temperature
Traction control malfunction
Engine warning light
Ignoring any of the above can have some drastic consequences for your car and your safety. Remember to attend to the issue as soon as practicable.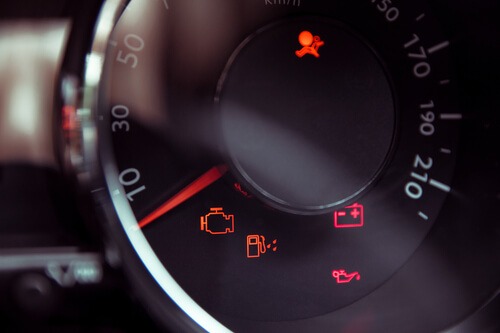 3. Jump starting your car the wrong way
While a flat battery can really ruin your day, burning your hand with 12 volts of electricity can also pass as a day ruined. Jump starting your car to get back on the road is a delicate process that shouldn't be rushed. Make sure you're aware of exactly how it's done and take a look at your car's manual to see if there are any specifics you weren't aware of.
4. Using the wrong oil
Not all engine oils are made equal. That's something that should be impressed on people who unwittingly buy a miscellaneous car oil from the gas station without double-checking which engine oil is right for their vehicle. Remember it's not necessarily the brand that matters, but rather the type and viscosity of the oil that makes the difference. Basically, you should only use what's indicated in your car manual.
Using the wrong engine oil can cause several issues with your car, including:
Overheating
Engine failure
Lower efficiency
Terrible smell
5. Ignoring tyre pressure
Type pressure is what's between you in your car and the road beneath you. Needless to say, ignoring tyre pressure is a car mistake that can land you in serious trouble. Running a flat tyre can damage your rims and brakes, and even wreak havoc on your bodywork.
If your tyre pressure warning light comes on while driving, it's best to find a safe place to pull over and inspect the affected tyre.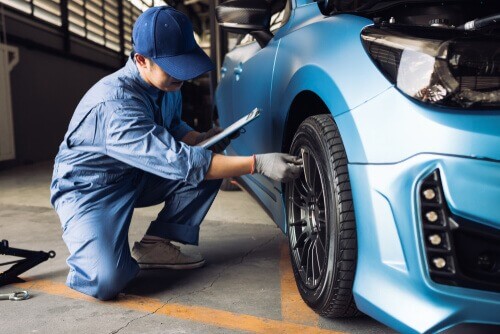 6. Letting your tyres bald
If you see your tyre starting to bald, don't second guess it – bring it straight to the experts and get it replaced. Here at City Subaru, our team of professional mechanics will be happy to assist you in making sure your tyres are roadworthy and safe to drive on. If you're in doubt, there's no harm in giving us a call to see if it's worth booking a service.
7. Forgetting to check fluid levels
Fluids are what keep your car on the road – literally. Without brake fluid, coolant, oil, or water there's not much chance you'd make it past turning the key without something going drastically wrong.
Keep your fluids topped up and inform your mechanic if there have been any abnormalities with the types of liquids used or the frequency at which you're refilling them. If you notice your oil levels going down quicker than normal you might have a leak on your hands.
8. Running your radiator dry
Your cooling system is critical to the health of your car. Without coolant, your radiator just can't do its work in keeping your engine cool while it does the hard work. Keeping a spare can of coolant in the garage or in your boot is a smart move especially if you're driving long distances in the heat.
9. Using foreign car parts
This is a big no-no. There are many reasons why you should avoid this car mistake, the most important perhaps being your warranty. Using genuine Subaru parts on your Subaru won't just maintain its resale value (which is pretty high for Subaru's, by the way), but it'll also keep your manufacturer's warranty intact.
10. Using an unqualified service mechanic
Car services can be expensive. But there's nothing more expensive than having to do two car services because the first one didn't fix the issue. Unqualified mechanics may be cheaper in the short run, and can be attractive if there's a small issue, but over the long term knowing your car has been serviced by an expert with brand-specific skills will be a big pay-off.
If your Subaru needs a service, then spare your time and money and get yourself to a qualified Subaru service centre near you.