Ok, so Perth's got some pretty special beaches. But before you pack a towel and load up the woofer, it's worth checking you're en route to a dog-friendly beach.
If you're looking for the best dog beach Perth has to offer, read on – while not all beaches are dog-friendly, there are plenty in supply.
Without further ado, here are the best dog beaches in perth.
1. South Fremantle Dog beach
This dog beach easily rates as the quirkiest dog beach around Perth. You've just got to visit to see why.
Located just 5 minutes drive from the centre of Fremantle, it has everything you want from a dog beach: a fun grass area, shower facilities, and plenty of parking both behind the dunes and next to the grass near the entrance to the Fremantle Sailing Club. If you can grab a park here on a busy Sunday morning, then you're in luck.
Takeaway coffee is usually on offer or, if not, just skip over to Marine Terrace for a yummy brew.
2. North Coogee Dog beach
If your dog needs to run a lot, then you need to visit this beach. It's easily accessible via Rollinson Rd, or if you park at the southern end of South Beach and keep left as you approach the water you'll be in the right place. This beach feels wilder with plenty of room, and serves as the ideal spot to let the dog off the leash for a solid sprint.
As you wander down the beach you can ogle at the new developments springing up down the coast. If you've brought a bike as well, this is the ideal spot to see more of the coast by riding further south towards CY O'connor Beach. If you find yourself here in the evening, it's tradition to grab some fish and chips and find a comfy spot near the dunes to kick back and watch the sunset.
3. Rockingham Dog Beach
If your dog isn't that keen on large waves, Rockingham beach should be your go-to. It's tranquil and extremely safe for smaller dogs (and humans) to have a dip and splash. For anyone wanting to spend the day relaxing by the water, there's plenty of amenities like an ablutions block, barbecues, a children's playground, and plenty of grass to settle down for an evening picnic.
4. Mosman-Leighton Dog Beach
Nestled between Leighton Beach and Mosman Beach is the Leighton Beach dog exercise area. This is an ideal spot for a swim in the morning before the waves pick up, and usually has a large expanse of sand to let the dog go wild. Parking isn't as available as some other beaches, hence why getting there early is also a smart plan. There are also minimal amenities here, which adds a nice remote feeling to the place. If you're a kitesurfer or windsurfer – you probably know of this one already, because the wind is perfect here in the afternoons.
5. South Cottesloe Dog Beach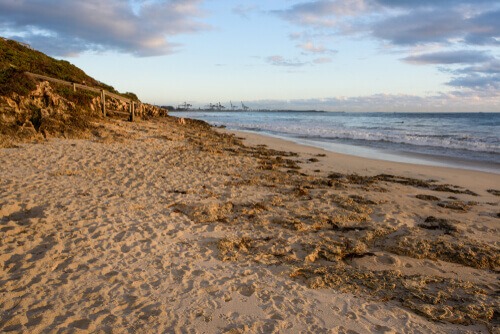 Just south of the hustle and bustle of Cottesloe Beach is South Cottesloe Beach. It's accessible by parking alongside Marine Parade and then taking one of the pathways through the dunes down to the beach.
The waters are pristine, although be careful of rocks in the shallows if you plan on diving in too.
6. Dog Beach (South of City Beach)
With sprawling sand dunes and stunning waves, just south of City Beach lies a stunning dog exercise area that is lucky enough to have its own little car park wedged in between Challenger Parade and the suburbs. Popular with locals, this beach is fantastic for a morning walk or sunset stroll.
7. Bennion Dog Beach Trigg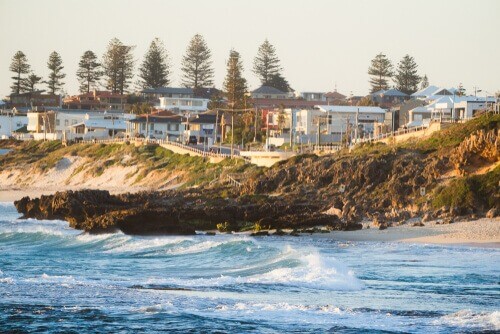 Located just a host walk from the charming Yelo cafe, this popular dog beach is a hit with locals and newcomers alike. There may not be full shower facilities, but a drinking fountain and a thoughtful bowl of water await anyone on four legs. This beach has a ramp and stairs for access, so be aware that this may not suit everyone.
How to keep your Subaru safe from sand and saliva
Taking your dog to any of these beaches will be a riot. So much so, that you may end up regretting not brushing off more sand before you climb back in your car. But sometimes having a proper shower and clean down just isn't worth the time or hassle. So here are some tips on how to manage that sand and saliva party.
Buy the right floor mats, if you haven't got floor mats in your car – this is a worthy investment, and not just because of your dog (we humans are messy too following a day at the beach). Get in touch with your local Subaru parts and accessories shop for genuine Subaru floor mats.
Buy a Subaru Seat protector – these can be a lifesaver. Protecting your pride and joy from the wrath of teeth, sand, saliva, or worse, will help preserve your resale value and keep your car in good condition. A genuine Subaru seat protector will fit like a glove on your new Subaru Crosstrek, or whatever model you may be sporting.
If you've got bikes, get a genuine Subaru bike rack. Don't cram them in with the dog, it's not fair. Keep those wheels on the roof or on the back and make sure your dog always has access to water and a comfy place to relax for longer drives.
Want to make your car more dog-friendly? Get in touch with the experts at City Subaru
At City Subaru, we've got our own dedicated genuine parts and accessories team ready to help you accessorise your car so your dog can feel at home even when you're on the move.
Check out Subaru parts and Accessories Perth – just select your vehicle model and order online – or feel free to come by and chat in person.