Negotiating a good deal is a vital skill to have, no matter what you're bargaining for. And when it comes to getting the price down on your next car, the savings gained from good negotiation techniques can range from the hundreds to the thousands of dollars.
No matter whether you're buying demo cars Perth from a dealership, like City Subaru, or trying your luck on the private market, chances are, negotiation will come in handy when the time comes to haggle.
Before you try your hand at negotiating your dream car, it's worth knowing how and where to start. Here are ten top tips and tricks on how to negotiate buying a car:
1. Understand your power as a buyer
Firstly, it's good to know where you stand in the competitive second-hand car market. These days used cars are going like hot fries, at high prices, and while there's plenty of demand, it's important to know how to hold your ground.
Ultimately, as the buyer, you have all (if not most) of the power as the negotiator. Think about it. The seller trying to flog you their vehicle probably only has one car to sell, and you've got 5, maybe 10 or even more sellers on the line who are fair game with the money you're willing to spend.
Everything else remaining equal, they want to sell their car more than you want to buy theirs. So what do you do with this information? It should inform how you go about talking to a seller.
2. Do your research
Knowledge is power. And the only way to become a fluent car negotiator is by knowing everything there is to know about your desired model, the dealership where you're buying from, and the market.
Solid research will also help you gain insight into why a seller may be selling their car. This is particularly helpful if you're thinking about buying privately, as chances are there is something wrong with the car being sold – and the buyer may want to hide this from you.
But research isn't just helpful to know what to expect from the car, it's also important to know how prices are behaving for the model, and the extras that may (or may not) be included in a given vehicle. Doing research before contacting the seller can put you in a better position when it comes down to the final negotiation on price.
3. Be at the right place at the right time
It's common knowledge that timing is everything when it comes to negotiating a killer deal on a car. What isn't common knowledge though, is that after-sales products like servicing and extra inclusions are big money spinners for dealerships.
Manufacturers award bonuses for selling extras and the sales are calculated for monthly and annual targets. Shopping for a car at the end of the month or the financial year is the perfect time to snag a bargain. However, this could backfire if the dealer has already hit the set targets and they are not as desperate to finish your deal. This is where luck comes into play and choosing the 'right dealership' at the right time can boost your chances of a good deal.
4. Position yourself as a genuine buyer
Sales representatives at car dealerships are quick to root out genuine buyers from window shoppers. And no matter when you intend to buy, it's always helpful to come across as a genuine buyer. All right, but how do I do that?
There are various techniques you can employ to come across as a serious buyer:
Keep a clear head, and express clearly what you're looking for.
Use phrases like "if you meet my offer price…then I'll pay cash today".
Keep the negotiating power in your court by remaining flexible on the exact model/specifications of the new car
5. Observe a one-day cool-off period
Time is a fickle thing. It can play into both the buyer's and the sellers' hands in different ways. Sellers can create a 'false demand' by mentioning that two or three other buyers are interested, and one of them is willing to buy tomorrow. Don't fall for this trick. Keep time on your side by remaining cool during negotiation, and always allow a cool-off period of at least one day.
It's not normal to buy a car straight up, the seller knows this, so don't lose control of this bargaining chip by agreeing to buy on the same day. Plus, who knows what deals will pop up after you've calmly walked away? The best price you get offered today may sound like a great deal, could easily be outdone by an offer you receive tomorrow on a new model.
6. Come prepared to abandon ship
Arguably one of the more powerful tricks up the buyer's slave is the calm and measured walk-out. While this can give the impression that you're not interested at all, it can also give you a chance to re-group and compare the offer with others you've received. Remember that this technique should be done with respect to the dealer or whoever is selling the car. It's a good idea to maintain a good relationship with whomever you're buying your car from – storming out of a negotiation isn't going to help your cause.
7. Keep your cards close to your chest
Avoid volunteering information that can get you into trouble. For example, avoid admitting your full price range, or that you're desperate for a good deal because your last car simply packed it and now you're searching for a quick buy at a lower price. This can drastically reduce your bargaining power, by handing over the element of time to the seller to exploit. Keep it cool, calm, and calculated.
8. Leverage your trade-in value
Use your current car to your advantage during the negotiation process.
You can do this by handing it over to the dealership or selling it on the private market. This can help reduce the overall price of your new vehicle and provide leverage during the price negotiation. Remember that private buyers are probably going to give you more for your old model, but don't let that stop you from checking with a dealership as to how much they would give you.
9. Stay authentic during the negotiation
Authenticity is a little-known, yet powerful negotiation tip.
Sellers can tell if you're putting on your negotiating voice or being inauthentic. Don't come in with pre-planned lines, or carefully crafted sentences. Just be yourself and make your need clear. Remember that sellers – whether on the private market, or at the dealership, are humans too – and they'll respond positively to you being you.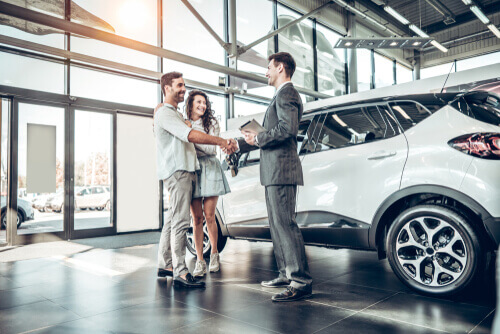 10. Choose a reputable dealership
This goes without saying, but choosing a dealership with a strong reputation will be the best option when it comes to knowing how to get a good deal on a car. The upside of carefully choosing your dealership is that you'll end up dealing with experts who are able to listen to your needs and match those to the right car.
If you're searching for a new car, contact us here at Perth City Subaru. We have a wide variety of cars available including the Subaru demo sale. We would like you to join us for a no-obligation test drive at your earliest convenience to try the Subaru difference out for yourself. Our sales team is standing by to answer any further questions that you may have.