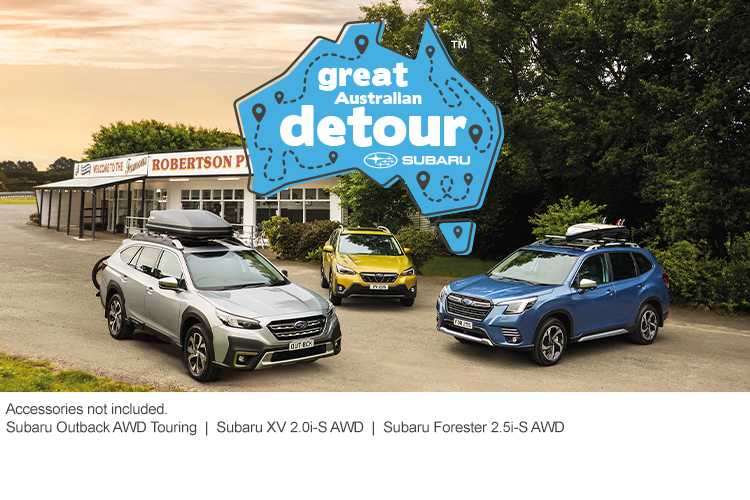 Special Offer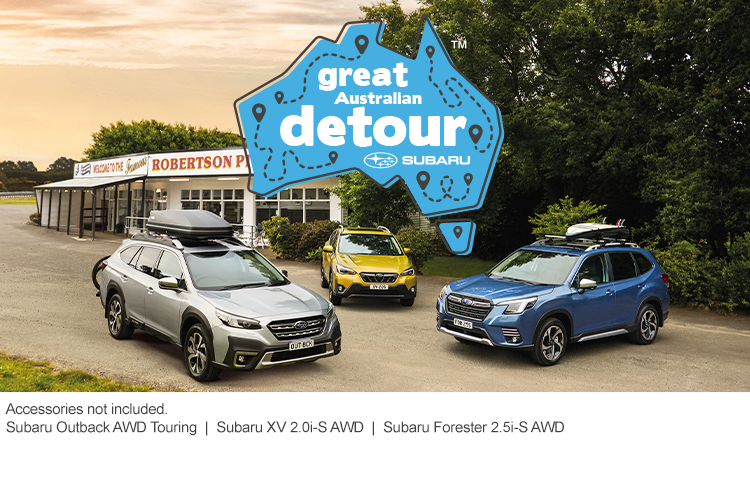 Start your next Great Australian Detour today!
Get the keys and start your next Great Australian Detour sooner with Subaru Financial Services.
Ready to take the road less travelled? All you need is a spirit of adventure, and a car with the capability and flexibility to get away, to make the most of your next Great Australian Detour.
Cue Subaru. And the category leading performance, safety, technology and comfort that Australia's love affair with Subaru has been built on for generations. And, because we could all do with a bit of certainty, ask your dealer about our Guaranteed Future Value.
The Guaranteed Future Value (GFV) is the minimum future value of your vehicle as determined by Subaru Financial Services (SFS) and set out in your contract. If you decide to return your car at the end of your term, SFS, or another entity appointed by SFS, will purchase the vehicle from you for the GFV, subject to agreed kilometres and fair wear and tear conditions being met, which will be put against amounts outstanding under your Loan. Approved applicants only. Terms, conditions, fees and charges apply. Finance is provided by IFSA Pty Ltd ABN 39 651 319 774 trading as Subaru Financial Services, managed by Allied Retail Finance Pty Ltd ABN 31 609 859 985 Australian Credit Licence 483211.
NEED TO KNOW MORE?
LINKS
Get one step closer to hitting the road in a Subaru. Use the links below to
read our detailed brochure or chat with our team at City Subaru.
They were really helpful in giving me time to think out my purchase as well as provide me with all the info I needed to know about my car post sale

Very professional and friendly

Everything was as discussed plus an ongoing oil issue was addressed with ongoing help offered. Nothing is ever too much trouble.

When travelling back to Geraldton it was important to have the car back by midday. It was ready on time.

To be dropped off and picked up from work was outstanding. Stan the driver was delightful and made the whole experience a pleasurable one.

Incredibly high standard of customer service, not only from the sales reps, but from the entire team. If you're looking to purchase a vehicle, I could not recommend Perth City Subaru more. Here's why: From the second I stepped foot in the dealership, I felt incredibly welcomed and at ease. They answer all of your questions and are very giving of their time to help you, if you need it. Chad (my salesman) worked around my schedule for the test drive and from start to end was extremely responsive and attentive to my wants and needs when considering the purchase. Every single thing was explained to me in a very clear and concise manner, which is critical when making a big purchase. John and his team at Perth City Subaru are clearly driven by their Customer's Satisfaction from start to end. From the second you walk in, the admin/reception staff are ALWAYS happy to help with a smile you and I think that's huge. I went to a few other Subaru dealerships in Perth and I didn't receive the same customer service. Mel (in finance) is extremely lovely to work with and super quick to respond to your enquiries. One of the biggest highlights for me, was - As a female who is looking into purchasing a car on her own on dealership grounds, I was not at any point pushed or made to feel heavily persuaded to 'buy', which is something I experienced at countless other places in Perth. Honestly, the whole team comes together and you meet every team member in person who has a hand in your potential purchase of a vehicle. Huge shout out to John, Russell, Mel, Angelo and Chad who helped me. Chad even pushed to get all the tinting and protection of the car done and ready for me within 48 hours of sealing the deal package just so that I didn't need to wait to have it until after the long weekend. Extremely happy with the service you provided from the second I stepped into your dealership, to the second I drove my new car out of it. Your efforts are NOT to go without recognition. Thank you Perth City Subaru! Could not recommend you more!
City Subaru
has received a fantastic
4.6

/

5
star rating
from
404 Clients
on Google.
A huge thank you to our wonderful clients!